The 10 Best Barefoot Running Shoes in 2023
Updated: 11/19//23
This page may include affiliate links for the Amazon Associate program, which means the owner of this site will earn money from any qualifying purchases you make from clicking on an Amazon link.
In recent years, barefoot running shoes have become all the rage.
While once reserved almost entirely for trail runners, these unique shoes are now popular with a variety of athletes for a number of different reasons.
Some people love them because they're perfect for running with a more natural style. Others supplement their normal runs with these shoes because they may help build greater foot strength. And still some wear barefoot options because they offer superior foot grip and suppleness for sports like weight-training, CrossFit, and other activities where the typical design may interfere with their performances.
This popularity means that, every year, more and more of these running shoes hit the market, but that can actually make it harder for athletes to find their perfect pair.
So, to help you out, I've put together a list of the 10 best available in 2023.
What Are Barefoot Running Shoes?
Barefoot Shoes vs. Minimalist Shoes vs. Zero Drop Shoes
What to Look for in Barefoot Shoes
The Best Barefoot Options of 2023
1. SIMARI Quick Dry Barefoot Water Shoes
2. FILA Skele Toes EZ Slide Drainage Barefoot Shoes
3. TSLA Trail Running Zero-Drop Barefoot Shoes
4. WHITIN Cross-Trainer Barefoot and Minimalist Shoes
5. Body Glove 3T Barefoot Cinch Water Shoes
6. Vibram KSO EVO Cross-Training Shoes
7. Merrell Vapor Glove 4 Shoes
8. Xero Prio Lightweight Zero Drop Barefoot Shoes
10. Vibram Five Fingers V-Trail V2.0 Trail Running Shoes
(I also recently put together a list of the best toe socks for barefoot running)
What Are Barefoot Running Shoes and Why Do People Wear Them?
Unsurprisingly, barefoot shoes are exactly what they sound like. These are shoes that are meant to make you feel like you're not actually wearing them – like you're running barefoot.
And that's the big selling point: these shoes will let your feet move naturally and, by extension (literally), your ankle, knee, and hips, too.
The reason barefoot shoes allow your feet to move more naturally, as if you were barefoot, is because they adhere to certain principles: a flat sole with no drop from heel to toe, a thin and flexible sole, no arch support, and an anatomical, foot-shaped toe box.
These barefoot characteristics differ from a traditional running sneaker, which often feature shock absorbers, pronation control, and arch support.
Our feet and hands have similar bone structures, functions, and dexterity, and when we confine our feet in restrictive shoes on a daily basis, it can lead to foot issues and a lack of range of motion. Just as a hand would become painful and weak if kept in a stiff cast for an extended period, our feet can become deconditioned if not used in their full range of motion. Therefore, it is important to consider the impact on the entire body when transitioning to the barefoot style.
So, while this trendy footwear may appear unusual compared to modern running shoes with their numerous supports and features, going the barefoot route may have all kinds of other benefits. We have been told by shoe brands and foot specialists that our feet need extensive support, but just as we can train other parts of our body to become stronger and more resilient, we can also train our feet.
Many foot issues are not caused by a flaw in the feet themselves, but rather by weakness. By constantly relying on high-tech shoes to support and stabilize our feet, we are not allowing them to function naturally and become stronger on their own. This is why we believe that using minimalist runners, which do not interfere with natural foot function, is a better long-term solution to foot pain. It allows us to condition our feet so they can support us when walking or running.
Of course, picking the best barefoot options is important to enjoy these healthy benefits.
Barefoot vs. Minimalist vs. Zero Drop Shoes
Before we jump into that list, though, let's quickly clear up some definitions.
For the sake of this article, we'll be referring to this type of footwear as a barefoot running shoe.
However, you'll often hear many of these called "minimalist shoes", as well.
There's no official designation one way or another, but many aficionados would actually consider minimalist shoes to carry a bit more weight than those of the strictly "barefoot" variety.
While this extra weight comes with added cushioning, if you're truly looking for a "barefoot" experience, you may wish to forego it. You'll find some "minimalist" barefoot varieties below, though, just in case some of you want a little added protection as you try out this new footwear.
Then there are "zero drop" shoes, another popular "barefoot" version.
They're called this because there is zero difference in height between the heel and the front of these shoes (also known as your "heel-toe drop"). Your foot doesn't "drop" like it normally would with traditional running shoes where the heel tends to be a bit higher than the toe.
Zero drop shoes exist on the other side of the spectrum from minimalist shoes. They offer almost no cushioning whatsoever – nothing but the bare minimum of fabric between your foot and the ground.
As I just touched on, shoes of the "barefoot" variety tend to exist across this spectrum, meaning there are some that are really bare bones (zero drop with little cushioning) and others that have a little extra bulk for them – a good choice if you plan on running over rough terrain.
Whatever the case, if you're looking for less interference when you run compared to traditional options, any of the footwear we cover below will be a good place to start – especially many of the more affordable pairs.
With all that being said, let's cover one more important topic before we cover the best barefoot (or "minimalist" or "zero drop") shoes available in 2023.
What to Look for in Barefoot Shoes - 3 Essential Factors
Again, these running shoes are made to minimize interference with the natural movement of your foot, ankle, knee, and hips, which means better ground feel and more natural movement.
To provide these barefoot benefits, most will have foot-shaped uppers with wide toe boxes, so your forefoot can relax and your toes can spread out - whether you're walking, jogging, or sprinting at full speed.
But let's look a little closer at the most important factors to consider if you're in the market for running shoes in 2023.
1. Little-to-No Heel-Toe Drop
We've already covered this in-depth, but if you want a truly "barefoot" experience, a shoe with "zero drop" would be the best option.
A zero drop is thought to promote a more natural running style, but the absence of a midsole can be problematic if you are jogging on rough terrain. Therefore, barefoot trail running shoes may still have a minimal amount of midsole to provide some cushioning for uneven surfaces.
But at most, you don't want a heel-toe drop of more than 6mm if you're looking for the feedback from a barefoot shoe and improved ground feel.
This also tends to mean low "stack height", too, which just refers to the amount of cushion between your barefoot and the actual ground. It doesn't matter if a shoe has zero drop if there's an inch of material between your foot and the ground. That definitely would't give you a very barefoot experience
2. Low Weight and High Flexibility
Just like you don't want a high toe-drop in a barefoot shoe, you wouldn't want a lot of weight, either. It defeats the purpose of buying a shoe that's meant to feel like you're running barefoot.
So, a good barefoot running shoe will have minimal overlays or bumpers and a highly flexible, thin outsole.
Your exact needs will depend on the type of terrain you'll be training on. For example, hardly-there soles may work well on pavement, grass, or sand, but you may need more grip for an off-road surface or outdoor trail.
Just keep in mind that more weight means less flexibility, which will impede the feel of running "barefoot."
Barefoot shoes are designed to lack pronation control, arch support, and shock absorption. These features go against the principles of barefoot running, which, as we've talked about, is all about natural movement that leads to a stronger, healthier lower body. As the barefoot design has become increasingly popular, more and more "conventional" footwear brands have produced their own pairs. Unfortuntely, most can't seem to give up their habit of adding a million extra features to their footwear, even when they're meant to be "barefoot." Keep this in mind when shopping for your first pair, as these additions will definitely get in the way of the aforementioned health benefits and "ground feel" you want.
The 10 Best Running Barefoot Shoes for Men & Women in 2023
Alright, with the necessary preliminaries now out of the way, let's FINALLY dive into the best running shoes on the market if you want a barefoot feel.
If you're looking for a high-quality pair in 2023, here are your 10 best options.
All prices are based on shoe sizes between 10.5 and 11.5.
Note: We recently published a post specifically about best barefoot running shoes for men if you're a male looking something specific and another post covering the best barefoot running shoes for women if you're a female in the market. And we finally got around to publishing a post about the best Nike barefoot shoes available in 2023.
1. SIMARI Quick Dry Barefoot Water Shoes – $29.98
SIMARI Quick Dry Barefoot Water Shoes are the most budget-friendly pair on this entire list for those who want a minimalist running feel without feeling like they paid a fortune. So, if you're a beginner runner and don't want to spend too much right away, these Barefoot Water Shoes are a great place to start.
Better still, saving money doesn't mean you have to settle for footwear that completely skimps on features. Remember: running "barefoot" doesn't mean you have to suffer unnecessary discomfort.
This SIMARI's footwear is made from a soft EVA insole that offers the wearer a high degree of elasticity. This will protect your feet and provide more comfort if you plan on taking your run to rough surfaces, sharp rocks, or even hot sand. In fact, if you are looking for a shoe that would be great for going from land-to-water and back again, these are perfectly acceptable for their price tag.
These soles also come with a unique bump texture that give extra grip – quite the advantage if you need extra ground feel, like when moving over slippery surfaces.
The elastic mesh uppers of this footwear will softly hug your feet while still being breathable and drying quickly when you work up a sweat – no need to worry about funky feet when you get home.
And one really underrated feature: there's a user-friendly locking mechanism for keeping the elastic shoelaces in place when you run. So, there's no risk of tripping on your laces when you run – plus this makes them really easy to take on and off with ease.
By the way, if you're reading this article because you're new to barefoot running, this blog post is a great place to transition from traditional running shoes.
2. Fila Skele-Toes EZ Slide Drainage Barefoot Shoes – $34.99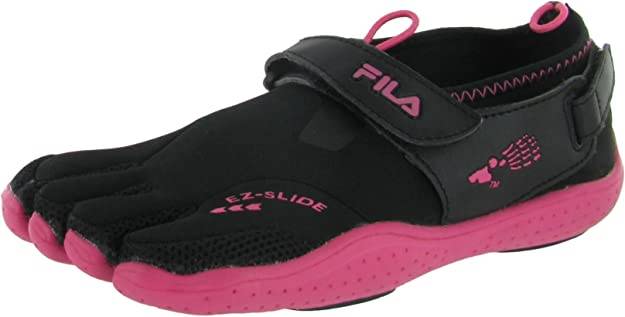 By spending just slightly more, you could also go with the Fila Skele-Toes EZ Slide Drainage Shoes.
This is easily the best shoe on the list if you are looking for a barefoot option to take on the challenges of beach running. The combination of their joint-friendly construction and the low-impact nature of the sand is a great way to avoid one of the most common running mistakes beginners make: running too much and too hard on pavement.
Wherever you do decide to run, a textured synthetic outsole will give you an impressive degree of stability on slippery surfaces.
Furthermore, the lightweight Fila Skele-Toes EZ Slide Drainage Shoes comes with a four-way stretch fabric made with air mesh for an overall comfortable and relaxed fit.
Another reason this shoe has become so popular with beach runners is their upgraded drain systems. They ensure that any water that gets inside is cleared quickly. This is a problem for other shoes as excess water means excess weight.
Oh, and if you do intend to use these as your go-to for beach running, you'll love that can literally wear them with just your bare feet – no socks required.
And yet, maybe the most unique aspect of these running shoes is how room is made for the toes. We've been seeing the "five-finger" toe design before – and we'll cover some models here – but Fila Skele-Toes EZ Slide Drainage Shoes actually shortened theirs to just four.
That's right – four.
Fortunately, those of us with five toes can still wear them. It's just that your two smallest toes will go in one slot – instead of two.
This makes it MUCH easier to slip these on at a moment's notice. If you've ever tried the five-finger versions before, you know what a pain it is – sometimes, literally – to get your smallest toe in.
Then, you have the more traditional hook-and-loop strap system with a bungee to keep this footwear on nice and tight.
And if all those other features don't sell you, there's the unique footprints these shoes will leave in the sand. The tread of the shoe will leave a skeleton design wherever you take a step (come on, that's cool).
3. TSLA Trail Running Zero-Drop Barefoot Shoes – $39.98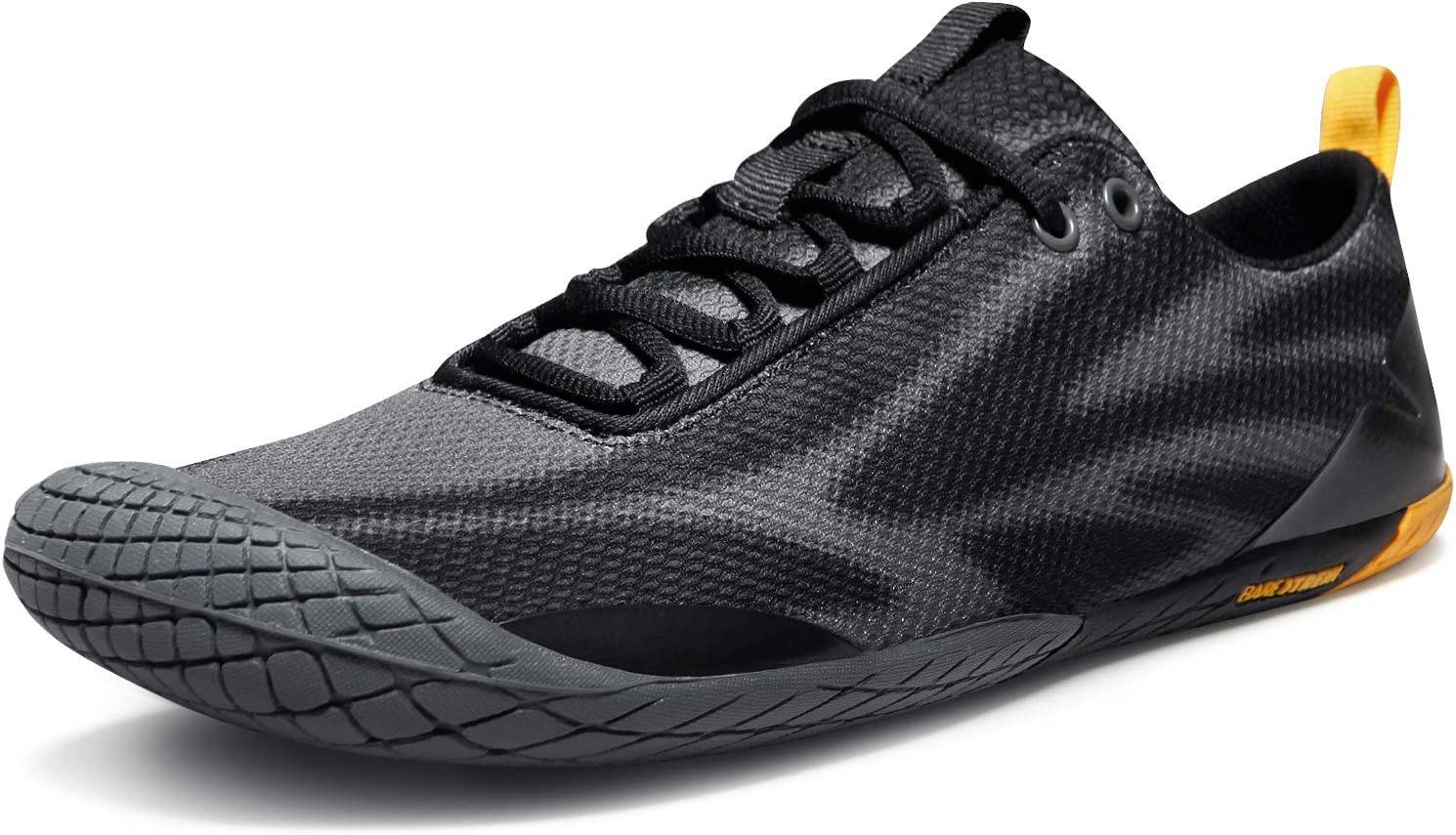 TSLA Trail Running Shoes are another great option that's just a small step up in price.
And yet, that step up comes with a zero drop – making these the first zero-drop options on our list.
That being said, TSLA designed them with just a bit of cushion, so you're not completely without help if you plan on hitting rough trails. While this might rule them out for those who want a true zero-drop experience, I think it makes them the perfect choice for those who are making the switch from traditional running shoes.
Hard to beat that price, too.
The instep support on these running shoes is surprisingly good, as well. Again, this is one more reason to make these your first foray into barefoot options if you're looking for a zero-drop fit. Aside from comfort, this design will also keep them tight to your feet.
For the outsole, TSLA added A LOT of grip, which makes them great for all kinds of terrain and any sport where it helps to have a barefoot feel without giving up traction.
4. WHITIN Cross-Trainer Barefoot & Minimalist Shoe – $40.88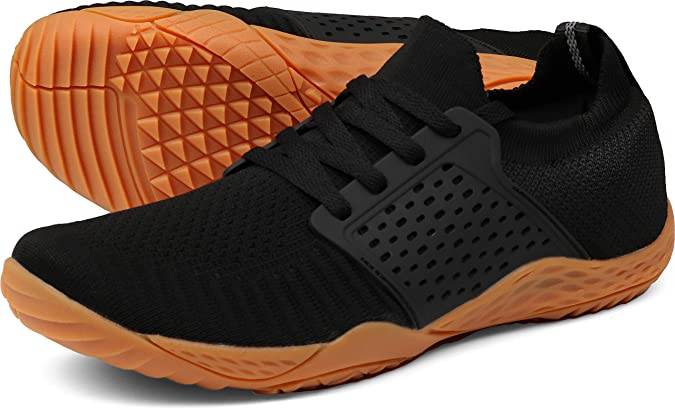 The WHITIN Cross-Trainer Barefoot & Minimalist Shoe is another great barefoot shoe that should fit most runners' budgets.
These are also another example of affordable running shoes that come with a zero-drop design if you really want to get as minimal as possible.
But again, zero drop doesn't have to mean your run needs to be uncomfortable.
The zero-drop sole on these cross-trainers is rubber with a 5mm "power footbed" that offers a noticeable level of cushioning. There's also a padded rear collar that's designed to support your Achilles tendons, which is another reason runners love this shoe when they're initially getting into the zero-drop design. If you're worried that it will mean a lack of support that leads to injuring your Achilles, this is a good pair to get you started.
WHITIN added ultra-grip outsoles to further improve your traction on wet and dry surfaces. Sticky-grip rubber outsoles make the most of this ultra-grip design, not just in terms of grip but also durability. So, these are shoes you can plan to wear for years to come no matter where the trail takes you.
5. Body Glove 3T Barefoot Cinch Water Shoe – $44.99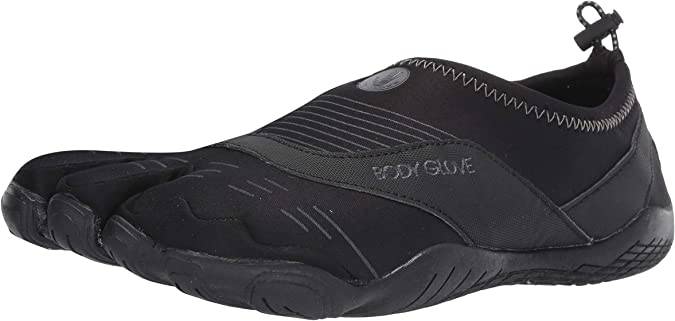 Like the Fila Skele-Toes, the Body Glove 3T Barefoot Cinch Water Shoe has won a lot of fans simply for having a unique toe feature. On these minimalist shoes, WHITIN designed them with just three slots. Only having to worry about fitting your toes into three slots makes it that much easier to take these shoes on and off.
Many runners seem to agree this design is also A LOT more comfortable than the five-finger versions, too.
But once again, like the Fila Skele-Toes, this unique design isn't the only thing the 3T Barefoot Cinch Water Shoes bring to the table. They, too, have a zero-drop sole and a shocklace system that is designed to make sure this minimalist footwear provides maximum fit.
Fortunately, the design of their exteriors was given a lot of thought, as well. Stretch uppers also make it easy to pull these running shoes on and off with ease – the adjustable strap is great for this, too.
And ultra-grip treads go a long way toward making it easy to take this minimalist sneaker on dry and wet surfaces with plenty of confidence.
If you do decide to use these for wading into the water, you'll enjoy plenty of ventilation to help them dry out in no time. This also helps a lot if you work up a sweat and don't want to worry about smells and sores later on.
6. Vibram KSO EVO Cross Training Shoe – $84.00
Alright, for the second half of our list detailing the best running barefoot shoes on the market, we're going to look at some pricier options. These are shoes that you probably don't want to consider unless you've already been barefoot running for awhile and know you'll be sticking with the sport.
We'll begin this portion of our list with the Vibram KSO EVO Cross Training Shoe – the design that really brought barefoot running into the mainstream back in 2005.
These are about as zero drop and minimalist as any running shoe gets. This design is also why many people recommend Vibram Five Finger shoes for people with flat feet. If you're not sure if you have this problem, you'll know almost IMMEDIATELY if something is with just one step (no pun intended) in these running shoes. Your deficiency will have nowhere to hide.
While five separate toe slots will make this running shoe a little harder to put on than the other "finger shoes" on this list, for many runners, that extra time is completely worth it.
Especially if you go with the KSO EVO Cross Training Shoe.
That's because this particular pair is made with Vibram XS Trek soles that provide great protection to your feet while still having enough flexibility that they can flex with each step. This material also offers amazing traction over wet surfaces, making this yet another pair of running shoes that you can wear in and out of the water.
Despite all-around high-quality, durable materials, you can actually wash the KSO EVO Cross Training Shoe, too. So, whether you're wearing them in the water or just covering them in sweat, you don't have to stress that this pair will quickly become a nose sore.
7. Merrell Vapor Glove 4 – $86.30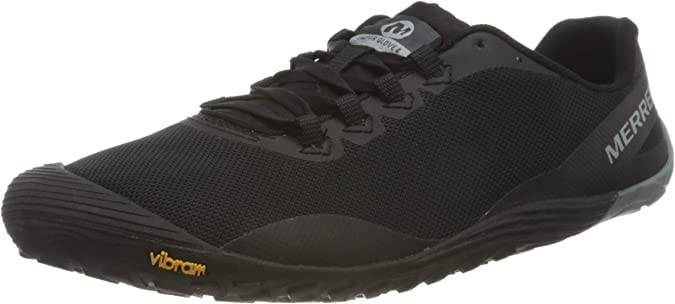 The Merrell Vapor Glove 4 is a fun running shoe that combines the benefits of moving in barefeet with a decent amount of shoe – something akin to a more traditional option.
For my taste, this is easily one of the best-looking running shoes on the entire list – especially when you consider that they're definitely made for function over fashion. Merrell could've definitely done a lot worse with their design.
I know that's not a major priority for every runner, but given the price tag, I like knowing you don't need to spring for a completely different shoe to wear during leisure activities.
Speaking of which, our fashionable running sunglasses are a great choice for shades you can wear when working out or having fun out with friends – and they're extremely affordable!
Okay, back to our blog post.
The Vapor Glove 4 offers a significant amount of sole – 6.5mm worth – to protect your feet from the territory below. Nonetheless, even with that much cushioning, you'll still enjoy a zero-drop style for the minimalist barefoot feel you're looking for in a shoe.
Above the foot, you'll enjoy a Cordura-mesh upper that's as breathable as it is durable. It has an ultra-light build that weighs slightly below 11 ounces per pair. So, even though this is a heavy-duty shoe, they're still plenty comfortable.
While I think this is a really great option for anyone looking solely for the best barefoot running shoe to go running in, this pair is also fantastic for other sports like weightlifting because of their zero-drop sole, durability, and comfort.  
8. Xero Prio Lightweight Zero Drop Barefoot Shoes – $94.99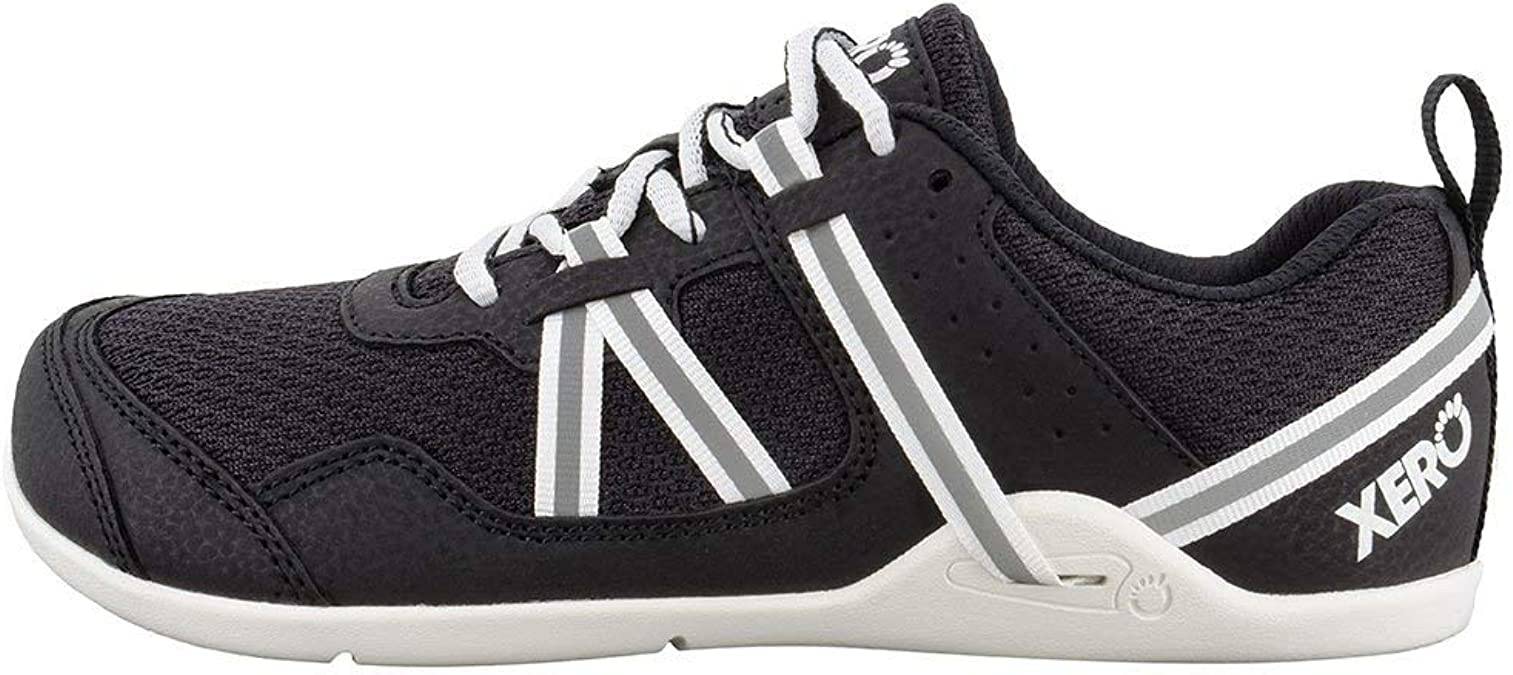 Next, we have the Xero Prio, which is the only pair on our list that has been featured on ABC's Shark Tank. While the founders' time on the show didn't result in an investment, the company has been EXTREMELY successful ever since.
Initially, the company specialized in zero-balance, minimalist sandals, but that popularity eventually created demand for the same level of minimalism for barefoot shoes (hopefully, "barefoot boots" are next).
Though Xero offers a number of great options, the Prio really stands out here.
First and foremost, this shoe has an insole that is only 2mm. Although that's almost nothing, it's actually removable in case you want even less between your foot and the ground. That version is about as "barely there" there as a running shoe can get.
That said, these shoes do carry a little extra weight. At 16.8 ounces, this is the heaviest pair on the list and about twice as heavy as the most minimalist running shoes out there.
But again, for athletes who want to use the entirety of their feet with as few limitations as necessary (i.e., only those for sufficient protection), a couple extra ounces probably aren't a big deal. The outcome in terms of muscle-building and posture may be entirely worth it.
And, like the Merrell options we just covered, a lot of runners also appreciate that these are some of the only minimalist running shoes that you could actually wear out with your normal clothes. While you might pay a bit more and have to put up with a little extra weight, you'll be buying shoes you can wear on the trail, around town, and even on a night out.
So, if you were thinking about also finding another pair to avoid problems associated with traditional shoes and enjoy that barefoot feel, you could kill birds with one stone by choosing Xero Prio Lightweight Zero Drop Shoes.
9. Inov-8 Bare-XF 210 V2 – $115.00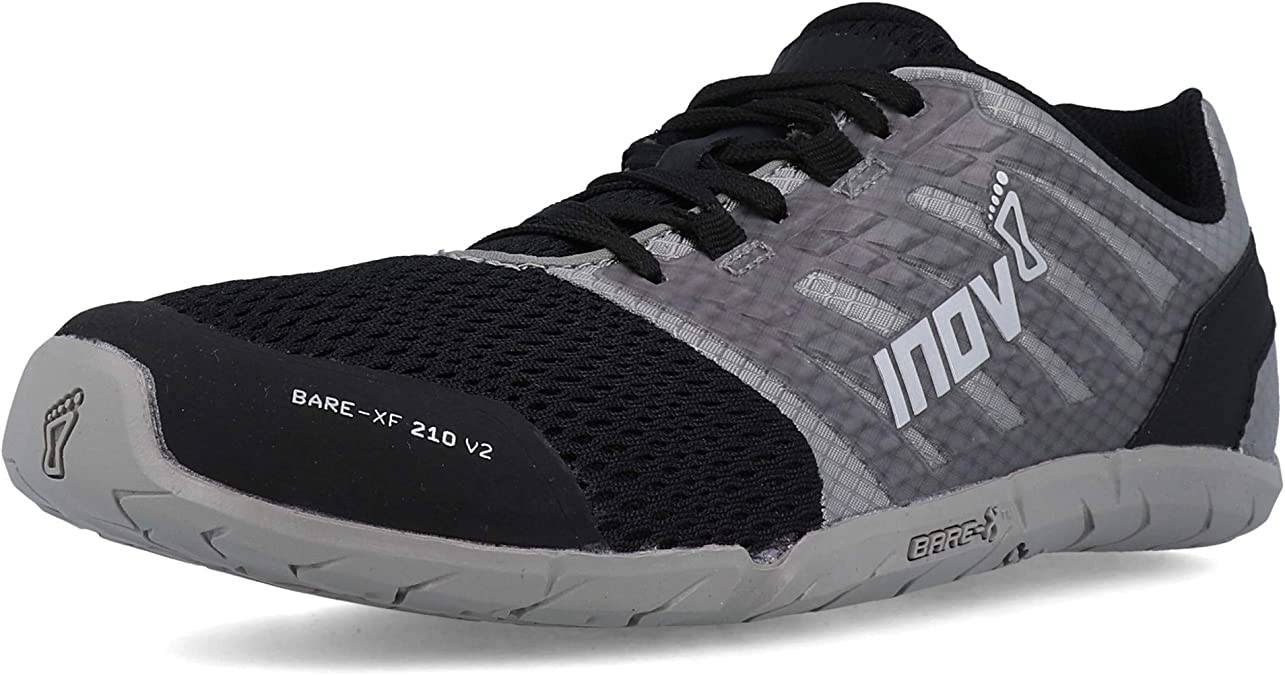 Okay, let's go up another rung on the price ladder. If your barefoot budget is a bit bigger, check the Inov-8 Bare-XF 210 V2.
That larger price tag is still very tolerable for many as these are a great pair of minimalist shoes for not just running but also CrossFit, martial arts, weight training, and other sports.
If all you are looking to do is go running with a barefoot feel, I probably wouldn't recommend these. They do feature a zero-drop heel – which is great – but the price tag is really only justifiable if you plan on wearing these for other sports, too. If you just want the barefoot design for jogging or walking, you can probably spend a lot less and still be happy.
That said, if you do play other sports, these shoes are fantastic. Their durability is unmatched on this list. They can put up with harsh hiking trails, CrossFit mats, and everything in between. This is why their price is so easy to justify for so many. It would cost a lot more to buy minimalist shoes for a half-dozen different activities.These have one of the best barefoot designs for all kinds of activities, which probably justifies the price.
And you really are getting a minimalist shoe here, despite all the hard work Inov-8 put into making these shoes borderline indestructible. The extra-wide dual-layer mesh toe might make the shoe look a bit bulky, but it still sports a minimal 3mm zero-drop sole.
That said, at 15 oz, this is still a heavier for a running shoe when compared to most on this list, but that's why I said I wouldn't recommend it if all you're looking for is a barefoot shoe for jogging.
This shoe is for multisport athletes who want a barefoot feel they can enjoy for years and years to come.
10. Vibram FiveFingers V-Trail V2.0 Trail Running Shoes – $119.95
Finally, as I mentioned earlier, Vibram really deserves the credit for introducing the barefoot concept to mainstream runners.
So, it makes sense that it's the only brand featured twice on this list (three if you count the outsole of the Merrell Vapor Glove 4).
And on that note, let me introduce you to the very impressive V-Trail 2.0 running shoe.
While it's the most expensive option on our list, I'd still say they're a good investment if you're serious about barefoot running on rugged trails or any other surface where you need protection.
However, given the price, I wouldn't recommend these if you're just getting into barefoot running. This would be the pair you graduate to after you've already owned at least one other and you're sold on trail running with minimalist shoes.
The reason I emphasize trail running is that these are REALLY heavy-duty shoes for "barefoot" options. They come with a serious amount of grip that's great for going over rough terrain and a significant amount of rubber armor to keep your skin safe.
All this, and yet, these little barefoot tanks only weigh 6.4 oz with a 3.7 mm outsole and a 2mm EVA foam insole.
So, although these are your traditional five-finger running shoes, they aren't the most flexible of this variety. All that protection will get in the way of your foot's agility, but if you plan on running over rocks or gravel, the added durability is probably worth it.
Ready to Switch to Barefoot Running Shoes in 2023? Here's How
Well, that's my list of the best barefoot walking/jogging/running shoes I think you should consider in 2023.
While you should definitely take your time considering all of your barefoot options – plenty of them aren't exactly cheap – if you start with the list above, I think you'll have an easier time finding the right pair for your specific needs.
Just be sure to follow these steps as you transition into your new footwear.
Strong, flexible toes are essential for stabilizing your body, especially when you forgo all the bulky support of conventional running shoes. So, you may want to do exercises to strengthen your feet and toes.

Start slow by walking in your new shoes before taking up barefoot running barefoot in earnest. Walking in these shoes is fantastic for strengthening your feet without the high-impact of running while getting used to the new feel of these shoes. You may even decide to adjust your running cadence so you aren't striking the ground heel-first, which is a change that's best to make slowly.

To that end, pay attention to your form. Cushioned shoes make the aforementioned heel-strike technique possible. So, again, try adjusting to a smaller gait when you switch to this footwear. In the meantime, you can even try running barefoot for a few steps on a hard surface to naturally shorten your stride and land on the forefoot closer to your body.

Incorporate a variety of movements into your routine, such as jumping, biking, lunging, and squatting. Running is repetitive, and it's important to have well-rounded strength to avoid injury – especially when switching to this type of footwear.

And finally, be patient. The transition period may take time. It's necessary in order to fully adapt without risking injury. Fortunately, this shouldn't take more than a month or so. After that, you'll be ready to wear barefoot sneakers for the rest of your life.