How to Wear a Bucket Hat: 15 Outfits & Inspiration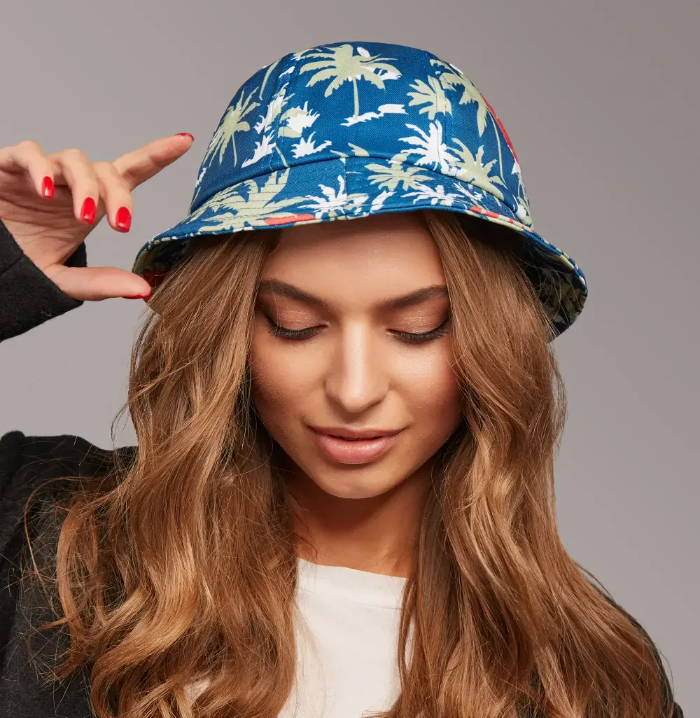 Bucket hats may have had their first pop culture moment when Gilligan made them famous in the 60s, but they really came into their own in the 90s when the likes of LL Cool J, Noel Gallagher, Jessica Alba, Will Smith, Britney Spears, and many others made them staples of their wardrobes.
Well, as is often the case, this beloved fashion trend is back. Billie Eilish, Rihanna, Bella Hadid, and Vanessa Hudgens have all been seen rocking bucket hats on numerous occasions.
Want to jump on the bucket-hat-bandwagon?
Here's everything you need to know about how to wear a bucket hat.
What Exactly Is a Bucket Hat?
A bucket hat is a distinctive hat known for its wide, downward-slanting brim and flat top. Its flexible fabric construction allows the brim to be flipped for better visibility, and its foldable design makes it portable enough to fit in a pocket. This hat style, often featuring shorter sides, offers both sun protection and a casual, easily transportable fashion statement.
One of the most important distinctions is that a bucket hat is worn solely for aesthetic purposes. Sure, it can help block the sun, but it's mainly there to support your personal style.
That's what separates them from other wide-brimmed hats like booney hats or sun hats, which are favored far more for their utility. You wear a bucket hat because you're trying to make a statement.
How Should a Bucket Hat Fit?
A bucket hat is made to sit comfortably low on your head with the crown settling down just above your ears. Ideally, the fit should be slightly loose. It should feel snug but not tight, allowing you to move your head without the hat shifting excessively. The brim of the hat should shield your face from the sun without obstructing your vision.
When you tilt your head forward or look down, the hat should stay in place rather than falling off. Similarly, if a gentle breeze comes along, the hat should remain secure on your head.
The fit should be secure enough to stay in place throughout the day, even when you're on the move or outside in the wind.
Remember, a bucket hat is not only a functional accessory for sun protection but also a stylish addition to your outfit. So, finding the right fit that complements your overall look while providing comfort is key.
When Can You Wear a Bucket Hat?
Bucket hat season tends to be in the summer when the wide brim is the perfect fashion accessory for keeping the sun out of your eyes (sunglasses with UV400 protection don't hurt, either).
Winter is a great season for bucket hats though, too. Along with providing protection from the sun, it can give a bit of extra insulation for your head on cold days.
But overall, the bucket hat is a casual fashion accessory. While some men have begun pairing bucket hats with suits, it's generally not recommended that you wear them to formal occasions.
Bucket Hats vs. Boonie Hats
Bucket hats and boonie hats may seem similar at first glance, but there are distinct differences that set them apart.
Boonie hats, often associated with military use, have wider brims that provide ample shade coverage, making them ideal for protection against the sun. Some boonie hats even feature neck capes for added sun protection, and many come equipped with chin straps to keep them secure in windy conditions.
On the other hand, bucket hats are characterized by their taller crowns, allowing for more versatility in style. They can sit high on the head for a casual look or be pulled down closer to the eyes for a different aesthetic. Traditionally, bucket hats are known for their playful and colorful styles and patterns, appealing to those seeking a more vibrant fashion statement.
Boonie hats were popularized during the Vietnam War, providing sun protection in rugged terrains. Man veterans continued to wear them when they returned to the States and the utilitarian headwear eventually became a fashionable stable in the 60s and 70s.
In contrast, bucket hats saw a resurgence in popularity in the 1980s and '90s, becoming a nostalgic accessory for millennials and a fun, affordable fashion statement for Gen Z.
In summary, while both bucket and boonie hats offer sun protection, they differ in brim width, crown height, and style options, catering to various preferences and occasions.
How to Style a Bucket Hat – 6 Different Ways to Wear One
Now, that we're all on the same page about what a bucket hat is, we can talk about how to style one with the right outfits.
But before we get there, let's quickly cover some important tips about how to wear one based on the way you style your hair.
1. Wearing a Bucket Hat with Long Hair
If you've got long hair, hats can be your BFF. You can let your beautiful long locks do their thing, try out some loose braids, or just go for that effortlessly messy bun look (all of which we'll cover a bit later). Rocking a bucket hat with your fabulous long hair is all about you owning that style. So, go ahead, grab a bucket hat with a cool print or texture that you love, and get ready to own the scene.
When it comes to bucket hats, there's a smorgasbord of options. From denim to tie-dye, color-blocked to faux snake skin, and even crochet versions – you name it, they've got it. And guess what? These bucket hats fit every vibe and occasion you can think of. Now, you might be wondering how to pull them off, what outfits to pair them with, and where to flaunt them. Well, no worries, we've got your back on that too. Tell us the season you're vibing with, picture an outfit, pick out your fave bucket hat, and voila! You're all set to turn heads, wherever life takes you.
2. Wearing a Bucket Hat with Curly Hair
Curious whether bucket hats are only for the wavy crew or those with sleek, straight locks?
Well, I'm here to tell you, that's not the case at all! A bucket hat in a lovely pastel shade can look absolutely stunning with curls.
Let me break down how to rock this look:
First things first, style those curls of yours and divide them into three sections – one at the back and two on the sides. Then, seal the deal with the bucket hat that speaks to you.
And if you're all about that short and sassy curly vibe, just let your curls roam free, embracing their wild nature. Top it all off with a denim, tie-dye, or even a dyed bucket hat for that extra pop of style. You can also grab a few delicate strands, weave them into a braid, and let the rest of your curls cascade in carefree elegance.
But hey, if those long and luscious curls are giving you a hard time, here's a game plan: create a middle part, craft two low buns at the nape of your neck, and allow a few loose strands to frame your face. Pop on a bucket hat, and girl, you're a trendsetter in the making! Your curls and that hat? Total style harmony, trust me.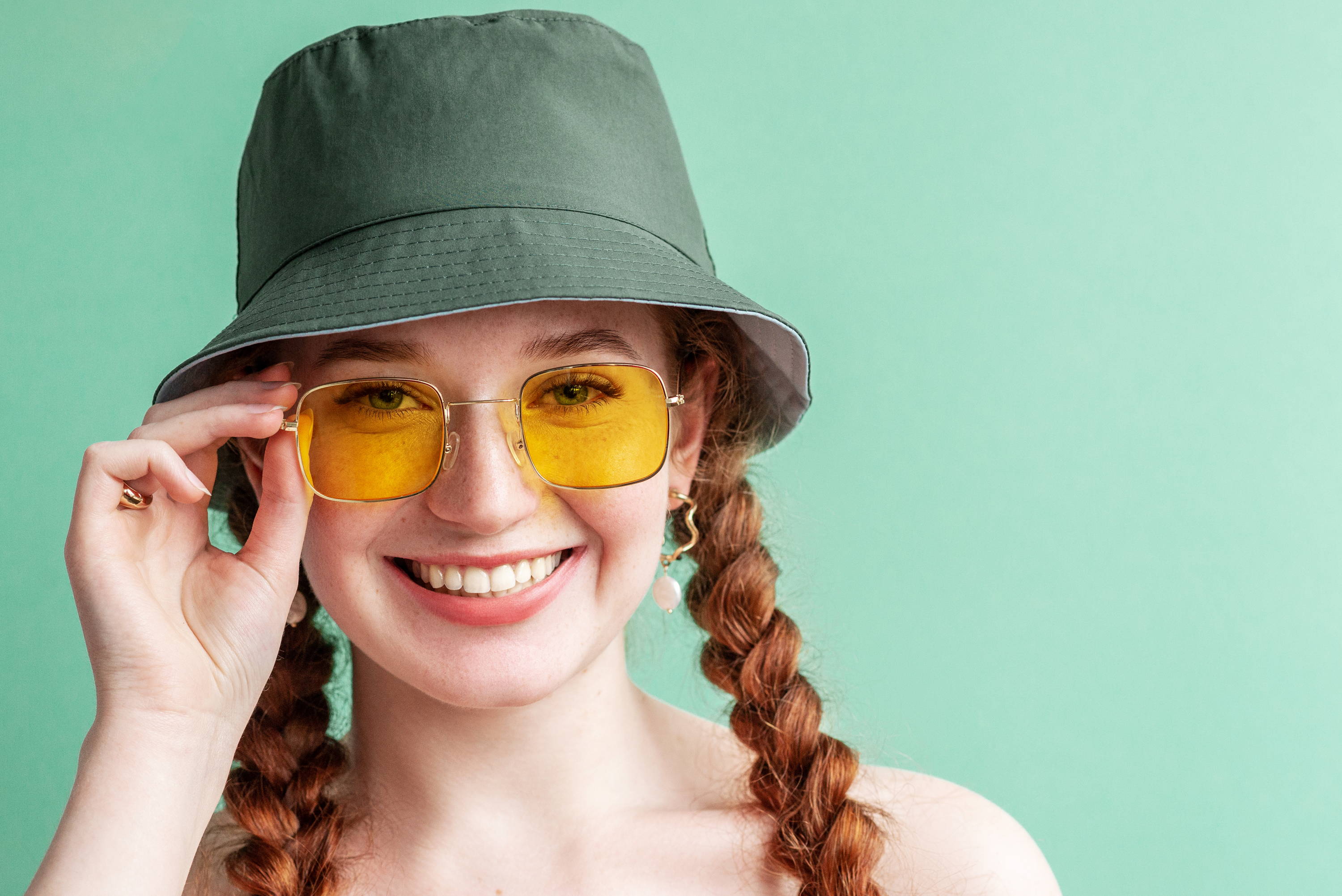 3. Wearing a Bucket Hat with Braids
Braids are like that forever trend that keeps on giving, and you know what's right there with them? A bucket hat paired with braids. So, imagine this: you're rocking your hair twisted into two classic braids, or maybe going for that intricate style with multiple thin braids, or even getting all fancy with fishtail braids – and then, bam, you throw on a bucket hat and your whole vibe levels up effortlessly.
Picture this ensemble: kick back in some wide-legged pants that bring that chic laid-back feel, pair 'em up with your go-to comfy tee, and then comes the pièce de résistance – those braids tucked under a stylish bucket hat. Trust me, that combo is your ticket to feeling totally street-smart and ready to own whatever comes your way.
4. Wearing a Bucket Hat with Bangs
Considering bangs?
Here's one more reason to proceed: bucket hats.
Bucket hats and bangs are like that perfect combo of hot summer days and a scoop of your favorite ice cream – just meant to be!
Now, here's the secret sauce to nailing this look: get your hands on a volume-boosting texture spray and give your dry hair, including those bangs, a spritz or two. This will give you that effortlessly windswept vibe that's perfect for beachy days. Then, slide on that bucket hat, and here comes the fun part – pop up the brim a bit to showcase your fresh new style. Trust me, you're going to rock that pairing like a true style maven.
5. Wearing a Bucket Hat with Bubble Ponytails
Speaking of beachy vibes, bubbly hair styles are perfect for sandy shores. Case in point: the bubble ponytail.
Start off by giving your locks some love. Grab a nourishing leave-in cream that defines your strands and keeps them happy while you're basking in the sun. Then, part your hair right down the middle and gather it into two chic low ponytails.
Here comes the magic part – to create those cool bubble effects, get those small hair elastics ready. Start about 4 inches down from your ponytail's top and pop on an elastic. Move a little further down, 4 inches again, and add another. Keep the rhythm going until you reach close to the ends of each ponytail. Secure that last elastic, and you're golden – with the ends of your ponytails dancing freely.
Finally, seal the deal on this awesome look. Top it off with a vibrant and sassy bucket hat, and boom – your protective and playful hairstyle is complete. Trust me, you're going to rock those beachy vibes like a pro.
6. Wearing a Bucket Hat with Buns
Two buns, twice the fun! Let's dive into this playful hairstyle. Start by parting your hair to whichever side feels just right for you. Oh, and don't forget to let those face-framing tendrils do their thing – they're the perfect touch.
Next, let's amp up those natural waves. Grab a wave spray that's got your back with UV protection and spray it on for that extra oomph. Once your waves are ready to roll, round up your hair into two low ponytails. Time to secure those babies with some trusty elastics.
Alright, here comes the bun magic. Take each ponytail and wrap your hair around its elastic, crafting those two super cute buns. Secure them in place with another set of elastics. Oh, and here's a pro tip: if you want some extra bounce, fluff out each bun a bit to pump up the volume.
To seal the deal on this fabulous look, pick out a bucket hat with a vibrant pattern that totally speaks to your style. Pop it on, and there you have it – a hairstyle that's as fun as it is stylish. Get ready to own the day with those double buns and that eye-catching bucket hat!
The Best Outfits for Bucket Hats: 9 Ideas for Inspiration
Do bucket hats look good on everyone?
They certainly can – but wearing the right outfit definitely helps.
So, what're the best outfits to wear with a bucket hat?
Here are 9 of the best options for outfits that go great for bucket hats.
1. Give Your Bucket Hat the Spotlight
One very popular outfit for bucket hats is to embrace a monochromatic look and then let your bucket hat stand out.
For example, you can merge a predominantly white or black outfit with a bucket hat that's full of color or features a fun pattern.
You don't HAVE to go full-monochromatic, though. Feel free to mix and match a bit – even introduce colors – just as long as the overall affect is understated compared to your bucket hat.
Against a minimalist backdrop, the bucket hat becomes the ultimate focal point, offering a canvas for bold patterns and colors to shine. This captivating contrast breathes life into your look, adding depth and intrigue. Keep accessories and attire in harmony with the monochrome theme, allowing the hat to have the spotlight.
So, embrace the unexpected and exude confidence by letting your bucket hat redefine minimalist fashion with maximum impact.
What's the latest street style sensation?
Loungewear!
It's sneaked out of our bedrooms and taken the streets by storm.
And let me tell you, you're on the right track if you're thinking about stepping out in your beloved loungewear.
Imagine this: you're sporting those effortlessly chic lazy, messy braids, and then you're sealing the deal with a bucket hat – talk about effortlessly cool fashion vibes! Trust me, you've got all the ingredients for an enviable look right there.
3. Add One to an Oversized Sweatshirt and Short Shorts
Pairing oversized sweatshirts with those cute short shorts and topping it all off with a fabulous bucket hat.
Seriously, it's like the epitome of comfort meeting style.
Picture this: those cozy oversized sweatshirts teaming up with the laid-back vibes of short shorts – it's like the perfect blend of comfort and a touch of sass. And when you throw in a bucket hat, it's like adding that cherry on top of the style cake. The whole look just radiates this effortlessly chic vibe that I can't get enough of.
This trend is like your lazy-day loungewear got a stylish upgrade, and I'm totally here for anything that combines comfort and fashion. Plus, it's such an easy way to look put-together without really trying too hard. So, next time you see me rocking this combo, just know I'm embracing the best of both worlds – comfy and chic!
4. Put Together a Look with Your Favorite Pair of Joggers
You can also effortlessly elevate your casual style by pairing a bucket hat with a pair of joggers.
Achieve a balanced fusion of comfort and flair by choosing joggers in complementary hues to the hat's tone. Opt for a well-fitted tee or a relaxed hoodie as your upper wear. Strike a harmonious contrast by selecting joggers with a tapered fit to maintain a sleek silhouette. Consider low-top sneakers or clean-cut white shoes to ground the look. The bucket hat adds a touch of urban cool, shielding you from the sun while exuding a laid-back charm. Master the art of athleisure with this simple yet fashion-forward combination.
Depending on how casual you care to be, you can also swap out your top for a sports bra. You can always wear a zip-up or casual jacket on top of that, too, for a bit more coverage.
5. Wear It with Your Swimsuit
You know what's a real sun-saver? Rocking a bucket hat just the way it was meant to be – as your ultimate shield against those UV rays. Think of it as your trusty beach buddy, looking out for both your face and neck during those sunny days. And hey, if you manage to coordinate your swimsuit with your hat and snap a pic while rocking it, that's a double win!
Bucket hats?
They're like that extra splash of pizzazz for your beachy attire or breezy bathing robes. So, whether you're diving into the waves or soaking up the sun on the shore, don't forget to snag a bucket hat in a sandy shade. It's like your sun-kissed style enhancer that's also super easy to tote around. Oh, and did I mention it's a recipe for some seriously great snapshots too?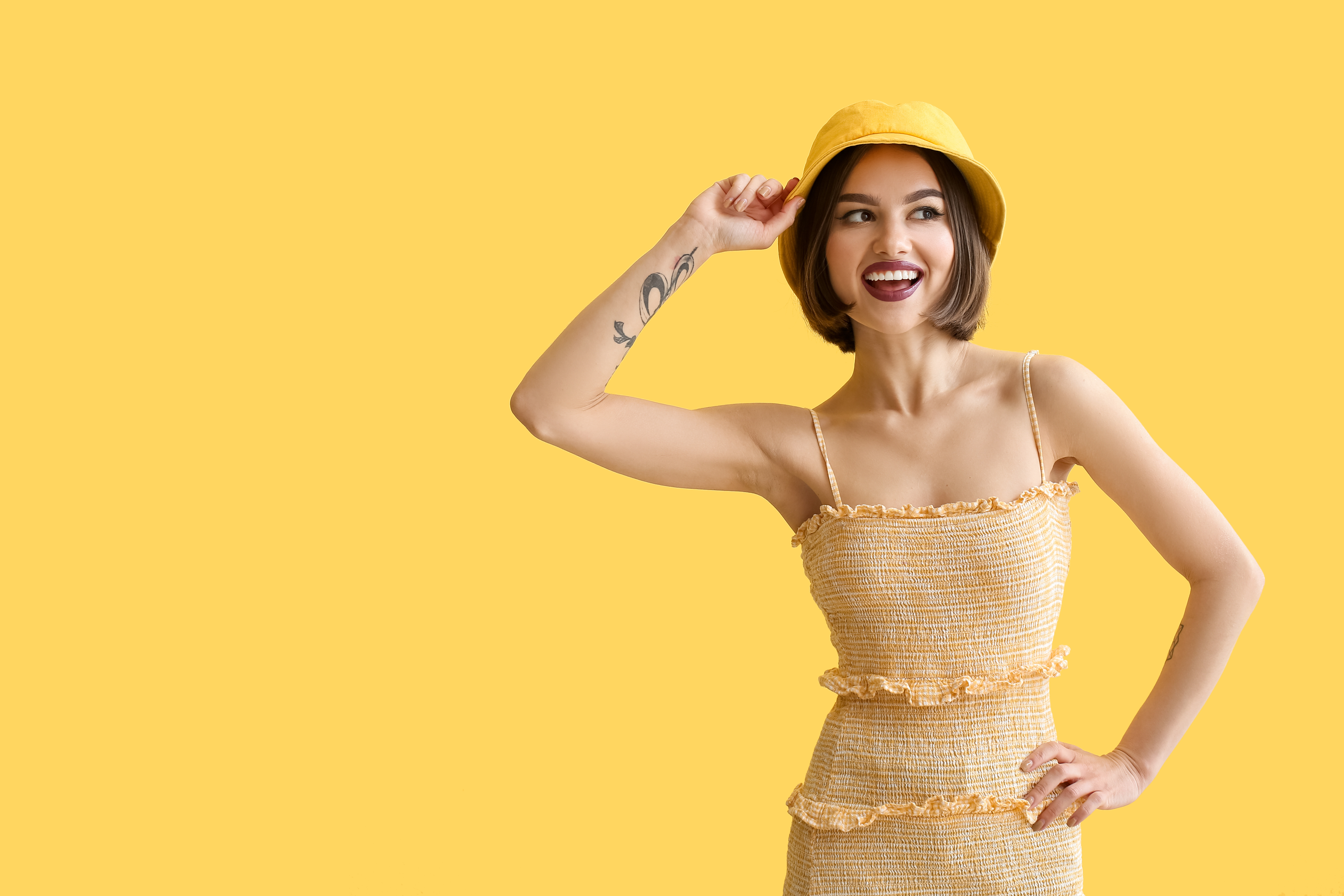 6. Pair It with a Sundress
Craving that perfect summer vibe? I've got just the thing: a delightful combo of a feminine prairie dress and a trusty bucket hat. This ensemble will whisk you away to daydreams of twirling through a sun-soaked sunflower field. Let me break it down for you:
Imagine slipping into a puff-sleeve, cut-out white midi dress – it's like an instant ticket to embodying summer's charm. And the magic doesn't stop there. Top it off with a classic white hat from Frame, and you're ready to rock this look without a hitch. When the sun's high, embrace the breezy elegance with strappy sandals – a modern twist on a timeless style.
7. Throw It on with Your Rain Boots and Coat
Embrace rainy days with flair, thanks to a patterned hat that's an absolute game-changer. Imagine pairing it effortlessly with a sleek, waterproof long trench coat.
Below, slide into knee-high impermeable boots – they're a must for staying stylish even in wet weather. And don't forget those practical shorts, which blend seamlessly with the open trench coat for a relaxed vibe.
But here's the secret to the style's success: this rain hat easily transitions into everyday wear, whether it's sunny or not. It's like a versatile style enhancer that keeps on giving. To elevate the sophistication, opt for a designer umbrella – an accessory that ensures you're covered in more ways than one. Rainy day or not, this ensemble sets you up to rock the scene with confidence.
8. Spruce Up Your Winter Look
Think bucket hats are just for sun and rain protection?
Think again!
Follow the lead of UK creator Alyssa Roddy and rock your hat well into the winter months. For instance, a faux-shearling style with a distinct logo adds both warmth and trendiness to your look. Here's how to nail the ensemble:
Pair that stylish faux-shearling bucket hat with a cozy winter jacket – perhaps a cropped puffer to keep things chic and warm. Elevate your lower half with a pair of upscale leggings and complete the vibe with a fashionable chunky sneaker. With this ensemble, chilly temperatures will be the last thing on your mind. It's all about embracing style and comfort, no matter what the thermometer says.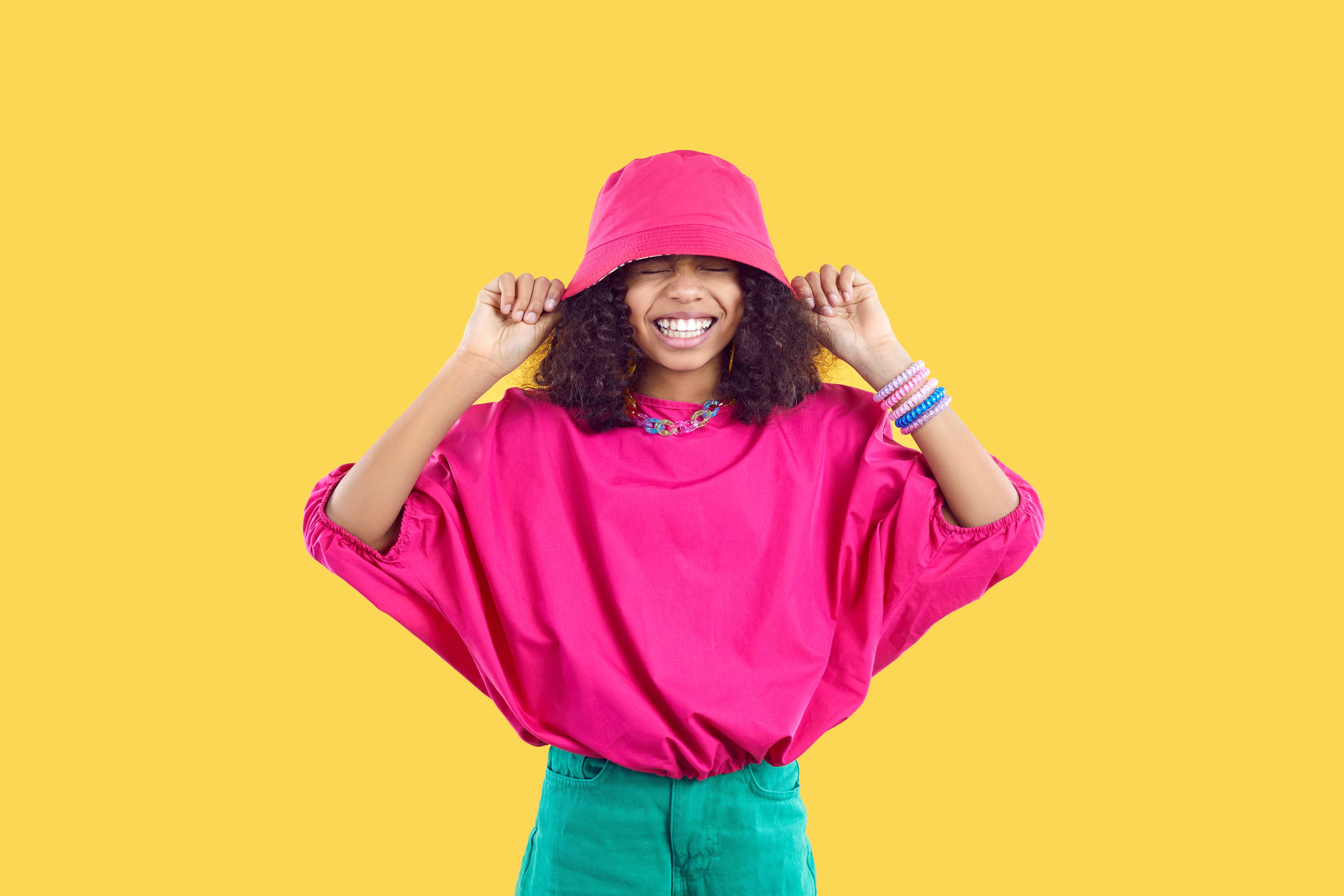 9. Embrace the 90s Aesthetic
Finally, feel free to indulge in the origins of the bucket hat's trendy lineage.
Complete your 90s ensemble with a hat that truly exemplifies the one-of-a-kind style of that time period. Whether you want to wear a classic graphic tee or a shirt that shows some midriff. Pair your top with set of generously flared trousers, coupled with sneakers or elevated platforms.
Then, finish your outfit with a bucket hat and you'll be ready to party like it's 1999 – or maybe 95.
And speaking of looks that are coming back, fanny packs have made a huge comeback as of late, so consider adding one of those so a little extra storage space (if you're looking for one, try our
Did We Miss Any of Your Favorite Bucket Hat Looks?
And there you have it.
If you've never added a bucket hat to your wardrobe before, now's the time to do it. You have 15 total ideas in terms of outfits and inspiration to make this new accessory your own and look your best.
But did we miss any?
Let us know in the comments if you know of any looks that look even better with the help of a bucket hat.