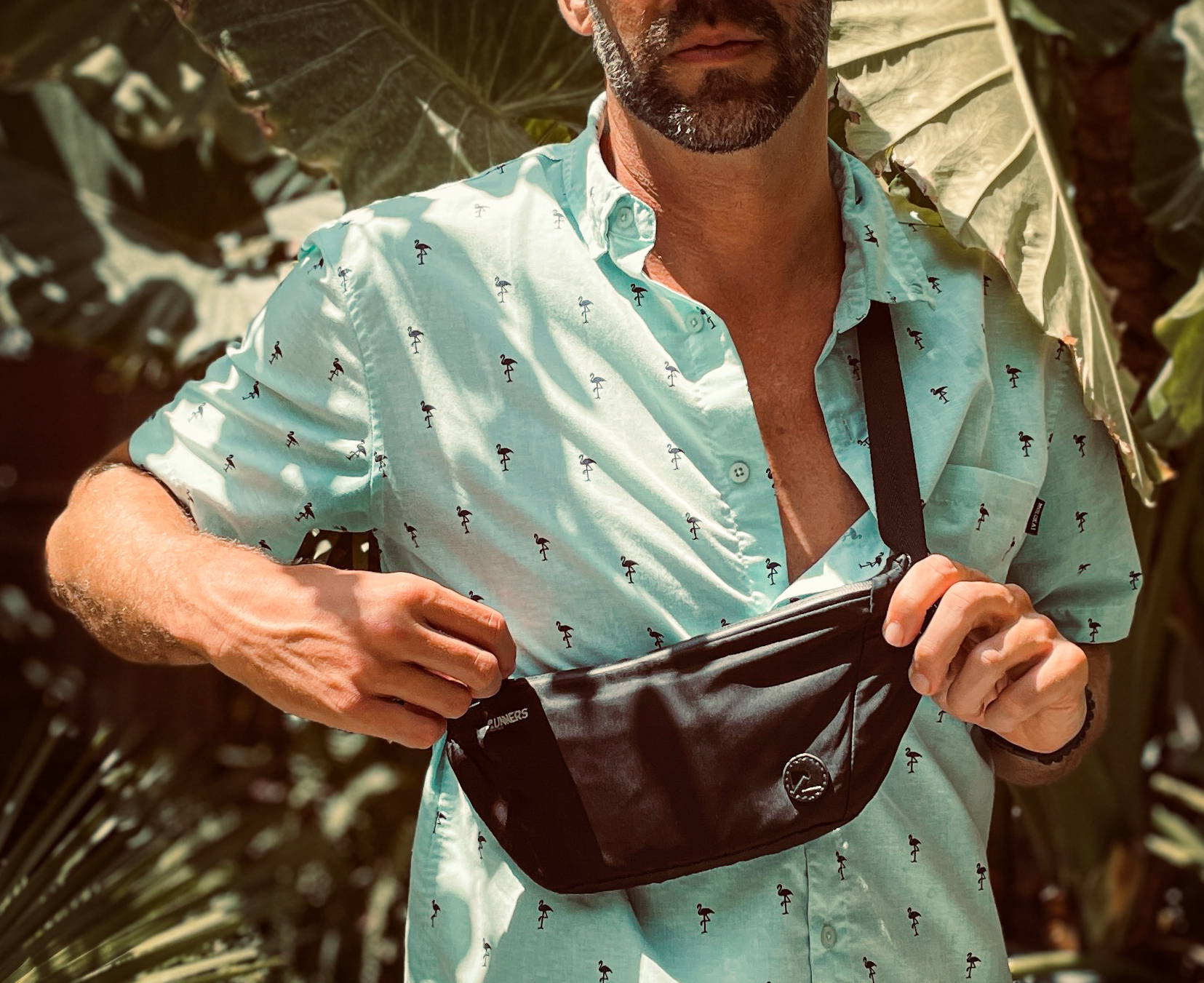 The 11 Best Running Belts in 2022 – Something for Everyone
What is the best running belt?
At first glance, it might seem like the answer is an easy one: "just about any of them."
Running belts aren't exactly the most complicated of running gear. While there are countless options out there, most of them are very similar.
Still, if you're a passionate runner, I totally understand that you only want to use the best possible gear when enjoying your favorite pastime.
Before I go through my top 10, let's quickly look at what actually constitutes a running belt.
What Is a Running Belt?
I'm going to go out on a limb here and say you probably already know what a running belt is. It's fairly self-explanatory: they're belts…you wear…when running.
However, as you're about to see, these belts come in a number of different designs. So, it's important that you understand what all of your different options are before assuming you've found the right one.
I also want to make a helpful distinction before we move forward, which is the difference between running belts and fanny packs.
Running Belts vs. Fanny Packs
Running belts (or "jogging belts") are designed specifically for people who need to carry items while doing cardio, whether that be running, jogging, or hiking.
Fanny packs (or "bum bags", for you Brits) can certainly be worn during these activities, but they're not made with their unique demands in mind. As such, fanny packs tend to be bulkier than most running belts. Furthermore, fanny packs tend to only have one large pocket, which is a deal-breaker for cardio-enthusiasts who don't want to come to a full stop every time they need to dig through a fanny pack to find what they need.
So, on the below list, we are strictly evaluating running belts, though I've included a number of very different options for you.
The 11 Best Running Belts in 2022 (Options for Everyone)
And so, without further ado, let's dive into this list of the best running belts on the market in 2022.
Our first entry on our list of the best running belts is actually our own.
And for good reason!
We went to great lengths to create the kind of combination running belt/fanny pack that we didn't see any other company offering.
Whether you're a runner, a walker, a hiker, or a little bit of both, the GoTo Pack Belt is designed to carry all of your essentials. You'll have more than enough room for your phone, your wallet, your cards, keys, passport, sunglasses, or anything else you want to take with you – but don't want to leave in your pockets. There's even a spot to connect your dog's leash.
The GoTo Pack Belt is durable, antimicrobial, and completely waterproof, so whatever activities you have in mind, you'll have a fanny pack that's up for the challenge.
And yet, we kept the pockets easily accessible, which makes it easy to grab whatever you need whenever you need it.
Wear it in front of your waist, back on your hip, across your chest, or over your shoulder. So, whether you need supplies for your next hike or you want to look stylish with a little extra pocket space, the GoTo Pack Belt is the perfect accessory."
Price: $38.00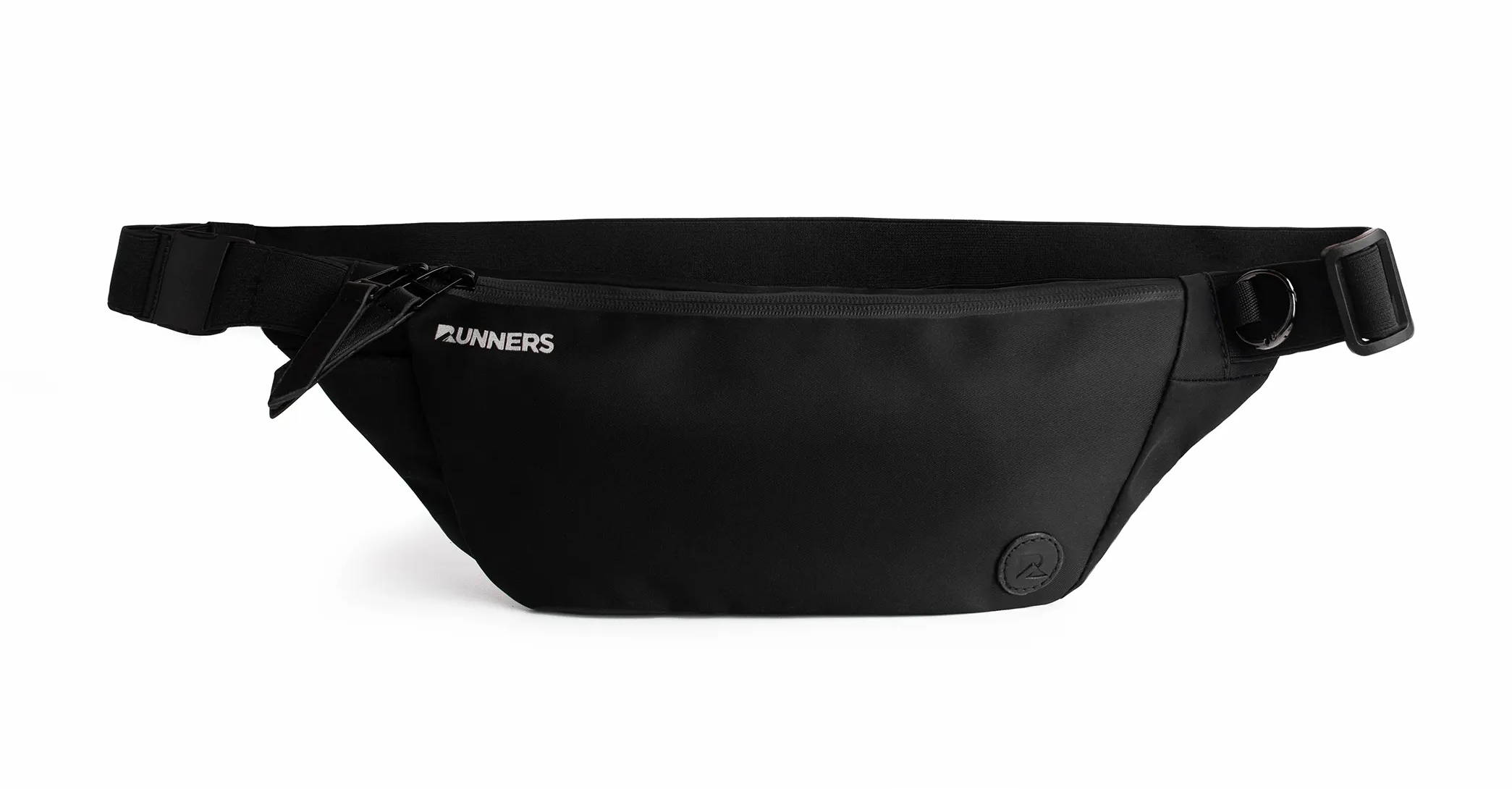 The Filoto Running Belt is one of the most popular options on the market, so this seems like a good place to start.
It features three traits that are common among these belts:
Sweat- and water-resistant material

Storage strap for energy bars

Large pocket for keys, cash, cards, and phone
If you need access for wired earbuds, the Filoto Running Belt even has a convenient opening where you can run them from your phone while it stays in the pocket.
But it's the size of the Filoto Running Belt that really makes this option stand out. The actual pocket is a foot long and only a few inches tall, but that's more than enough room to fit a phone up to 6.5" (e.g., an iPhone 11) and plenty of other items.
And yet, it's extremely small – definitely no fanny pack. This is a running belt that will carry your things without holding you back.
Price: $12.89
Now, if you're willing to spend a bit more, you might want to consider the FlipBelt. Its big selling point is that its flat, stretchy design will conform to your body and, therefore, keep this belt from moving around while you run.
That may sound like a small thing, but trust me. You'll ditch an otherwise great running belt if it doesn't stay in place. It's no fun having to constantly pull it up, so your belongings aren't bouncing all over the place, slamming into you with each step, or even chafing against your bare skin.
Like Filoto's option, FlipBelt is sleek and small but also offers plenty of storage. FlipBelt even has multiple access points to grab all of your things. So, instead of just the one pocket to dig through, you'll know exactly where to reach to grab your phone keys, energy bar, etc. while you're running.
With all that said, there's one big drawback with FlipBelt. While it is machine-washable, it isn't waterproof like Filoto's. Personally, that's not a huge problem for me, but if you plan on running in the elements, you'll need to rethink using FlipBelt.
Price: $21.57 - 36.96 (depending on size)
4. SPIbelt Large Pocket Running Belt
The SPIbelt Large Pocket Running Belt has a minimalist strap like the last two options but with a much different pocket. The stretchable Spandex on this belt does a good job of keeping it in place and wicking away sweat when you run without causing chafing. It even has six loops for your energy bars or running gels.
Okay, now onto the pocket. It doesn't look like much, but the neoprene it's made from allows this low-profile pocket to expand to accommodate smartphones of any size, keys, cards, etc.
This pocket is accessible through a zipper on the front, so you can easily unzip it and then look down into it for whatever you need. The material is also weather-resistant, which is always nice.
If I had to mention a drawback, I'd say that the zipper placement and stretchy material can make it a little difficult to pull things out mid-run. For example, if your phone is all the way in the back with cards closer to the front, you might have to do a bit of shuffling to get to your device.
Price: $19.99 - $40.99 (depending on size)
5. Lululemon Fast and Free Run Belt
I've gone on record before saying that I think Lululemon's leggings are overpriced, but that doesn't mean I think they aren't high-quality. While I can't claim to wear them myself, women all over the world clearly approve.
So, I definitely wasn't surprised to discover that Lululemon's Fast and Free Run Belt is similarly popular for the same reason: it's as comfortable as it is stylish and durable.
However, I was surprised to find that, while it's more expensive than most of the running belts on this list, it's still fairly reasonably priced at just $38.
Aside from the brand name, the Fast and Free Run Belt also sports characteristics that should now be very familiar to you. The lightweight material wicks away sweat, stretches to conform to your body to eliminate bouncing, and has a sleek pocket where your phone can go.
This is also a belt with side pockets, which I love because it makes it easier to organize your items and reduces the chances of anything falling out when you go looking for them.
Price: 38.00
6. AiRunTech Upgraded No Bounce Hydration Belt
Okay, while those are absolutely great running belts – and extremely popular – they're all missing one very important component if your running routine involves lots and lots of miles at a time.
Hydration.
Those other belts don't give you any place to put a bottle of water, so you can keep going mile-after-mile even if the sun starts working against you.
So, going forward, I'm only going to list running belts that have space for your hydration of choice.
Let's start with the AiRunTech Upgraded No Bounce Hydration Belt.
As the name tells you, this belt has two great things going for it. Not only does it have room for a water bottle, but it will also position it in such a way that it won't bounce against your body.
This is why I've usually avoided belts with bottle holders in the past. It's just no fun having a full body of water smack you in the hip or abdomen with every single step. I'd rather just take my chances with being thirsty.
With the AiRunTech Upgraded No Bounce Hydration Belt, your bottle is kept at a 45-degree angle and held flush against your body – right above your tailbone. It's still within reach but it's the positioning in the back – where it can be tight to your body – that keeps that dreaded bouncing from happening.
The 45-degree angle is what makes it so easy to grab and place back in its holder while still running.
On top of that, the Hydration Belt also has separate side pockets, an outlet for earphones, and the elastic stretch that makes this belt conform to your body.
Price: $18.95
7. G-Run Hydration Running Belt with Bottles
Maybe you're the type of runner who needs more than just one bottle to get through your grueling runs.
In that case, the G-Run Hydration Running Belt comes with two of them, each of which holds 10 oz.
The placement of these bottles goes on either side of your waist not far from your navel. You'll definitely feel them when you run, but this is another belt that has the elasticity to stay tight to your body, so those bottles shouldn't move enough to interfere with your pace. This is also helped by small silicone beads that line the inside of the belt right where the bottles are.
Even though the bottles are probably the main selling point, this running belt comes with a big center pocket, too. There are actually multiple pockets inside of the zipper, which makes it easy to separate your various items.
Price: $18.97
8. 247 Viz Hydration Running Belt
Maybe you need more water than just those two bottles can hold, though.
Maybe you're not looking for a jogging belt.
Maybe you're looking for a belt that can help you run for a half-marathon or even longer.
In that case, check out the 247 Viz Hydration Running Belt.
It comes with four bottles that can hold 10 oz each. That's 40 oz total!
Plus, they're extremely well-insulated, which will help to keep your liquid nice and cold even when the sun is doing its worst. I also like that these are squeeze bottles, so there's no struggling to unscrew a bottle when I'm trying to maintain my running cadence.
Fortunately, the belt does a decent job of keeping these bottles from bouncing around too much. Instead of fabric holding them in place, 247 Viz used plastic, which makes a big difference.
Price: $29.99
9. Entchin Fanny Pack with Water Bottle Holder
I know that this list is technically only for RUNNING belts, but I wanted to include the Entchin Fanny Pack with Water Bottle Holder because it's a great choice for those of you who need a solid hiking belt that can carry more than the other options on this list.
You could definitely take this belt running, but I think it's just too bulky for most of us.
But for hikers, it comes with five compartments – a front pocket, two good-sized zipper pockets, one smaller pocket inside for your cash, and an elastic pocket inside where you can strap in your phone.
That's a lot of space. You could pack a whole lunch in there if you wanted. While a single water bottle holder may not be enough, you could sacrifice some of your snack-room to make room for another.
Price: $10.27
10. Paw Lifestyles Retractable Hands-Free Dog Leash w/Smartphone Pouch
That header name can stay the same, but please replace all of the copy with the following:
"There's nothing like going for a run with your best friend, especially when it's a four-legged friend.
But holding a leash mile-after-mile gets old quick, even when you're running with a pup by your side.
That's why we invented our very own hands-free dog leash.
The Runners Rove Dog Leash is the perfect choice for anyone from long-distance runners to casual walkers who don't want to hold their dog's leash the entire time.
It's ½ inch thick and made from high-quality nylon, giving it the kind of durability that can withstand pulls from even the largest, most excitable dogs. And if your dog likes to pull a little too much, the leash has a handle on it that you can use to easily control your buddy.
To make it even easier to enjoy those runs with your bud, we connected this nylon leash to a rotating clasp that can easily slide around the belt. So, if your pupper likes moving side to side on walks or runs, the leash will follow without pulling the entire belt and causing chaffing like a lot of other versions do.
Plus, you can always unclip the leash and attach it to a stationary object – like a bike rack if you need to quickly run into a store.
And at six feet long, it's the perfect size leash for dogs of all sizes, whether you're walking, running, or training.  
Finally, because we know some of you may like to run after the sun's gone down, we make it with luminous reflective stitching to make sure you and your dog are plenty visible.
If you're curious about other hands-free dog leashes, feel free to check out our list of the best hands-free dog leashes of 2022."
Price: $21.95
Finally, if you want to make sure you stay hydrated during your long runs, but you just don't like the feeling of carrying bottles – no matter how much they stay in place – then I recommend you check out the CamelBak Ultra Belt.
The big draw with this running belt is its Quick Stow flask, which stores in a pocket at the back of the belt. This collapsible "bladder" flask is soft, so it fits perfectly against your body. When it's empty, you don't have to keep carrying a big bulky bottle.
And if 17 oz isn't enough, there's more room in the front pocket for another small flask if you want. This belt also comes with drop-in side pockets and another drop-in pouch for any gel or snacks you want to take with.
Unfortunately, there's also another feature that makes the CamelBak Ultra Belt stand out from the rest of the running belts on this list: its price tag.
Of course, as this could be the one-and-only running belt you ever use and as it's the only brand-name option that will keep you hydrated without needing to carry traditional bottles, it might still be worth it.
Price: $55.00
Which Is the Best Running Belt on the List?
Obviously, it depends on what kind of running you plan on doing.
The good news is that, aside from the CamelBak and Lululemon options, most of these belts shouldn't break the bank.
So, worst-case scenario, you may have to try out one or two before you find the right belt for the rest of your runs.
Personally, I'd stick with the belts that can carry water bottles because if you find yourself getting parched during your runs, you'll never be happy with a belt that doesn't have room for hydration. On the other hand, if you just want somewhere to put your keys and phone, that bottle space might become an annoyance.
Start with that consideration, spend a few bucks on one of the options above, and I think you'll end up very happy with your choice.