The 10 Best Leggings of 2023 – The Most Popular Options
This page may include affiliate links for the Amazon Associate program, which means the owner of this site will earn money from any qualifying purchases you make from clicking on an Amazon link.
Though leggings are a fairly simple clothing item, that hasn't stopped them from becoming one of the most popular options for women of all ages. And while they were originally commonplace in yoga studies, they've since become the athleisurewear of choice for everything from running errands to going out for brunch.
This popularity means there are now hundreds of legging brands to choose from with seemingly more entering the market every day.
So, if you're looking for a new pair but don't want to be looking for long, I've put together a list of the 10 best leggings for sale in 2023.
The 10 Best Leggings on the Market – Something for Everyone in 2023
The following list of the top leggings came out two years ago, but we've updated it for 2023. You'll find it includes something for everyone. We've also provided a basic description of each pair, the price tag, and whom they're probably best for based on what online reviewers have to say.
Also, we recently published an article about what to wear under your leggings, so check that out, too.

1. IUGA High-Waist Yoga Pants
If you're going solely by Amazon reviews, IUGA High-Waist Yoga Pants are easily the most popular leggings on this entire list. At the time I'm writing this, more than 52,000 customers from all over the world have contributed to its impressive average rating of 4.7 stars – 80% gave them 5 stars!
A big part of this has to be the price. You can expect to pay between $20-$30 for most pairs depending on your size and which color you want (IUGA offers more than 45 options).
Now, the tradeoff is that there are plenty of leggings out there that beat this pair for overall quality. The ankles on these are a little loose (which I know isn't a dealbreaker for many but definitely is for some) and their cut isn't perfect.
But if that's the worst thing you can say about an affordable pair of leggings, they're probably worth considering.
Plus, many reviewers on Amazon point out that they feel just as comfortable as more expensive leggings and maintain their elasticity over time.
I think this is a great choice if you're new to wearing leggings. As I just mentioned, these leggings have a lot going for them. Even if their customer reviews weren't quite as glowing, I'd still think they were worth a look based on that price tag – especially if you haven't worn a lot of leggings before. Instead of stretching your budget, try the IUGA High-Waist Yoga Pants, and, worst-case scenario, you'll have a perfectly acceptable pair to wear while you consider other options.
2. Universal Standard Core Leggings
The one thing you'll hear again and again about Universal Standard Core Leggings is that they are extremely comfortable. As the company puts it, the barely-there nature of these leggings "creates a next-to-naked sensation as you move."
And yet, they're not remotely see-through – a problem that has become all-too-common throughout the athleisure industry.
You also don't have to worry about a waistband that will give in. A lot of times, when leggings are considered super comfortable, it means their waistband lacks support and will roll over or flip down the first time you move around too much.
At the same time, many online reviewers mention that, overall, Universal Standard Core Leggings don't offer a lot of support when compared to other options. They also don't have pockets, which may be a dealbreaker for many.
I think these would be great leggings for anyone who's prioritizing loungewear and casual fashion over actual workout clothes. The thin material makes them extremely comfortable, but they might not offer enough support if you like to do a lot of cardio or weightlifting. Plus, they don't have pockets, so if you're going for a run outside, you'll need a contingency plan (e.g., a running belt).
But if you just want to look good while you feel good, Universal Standard Core Leggings won't let you down.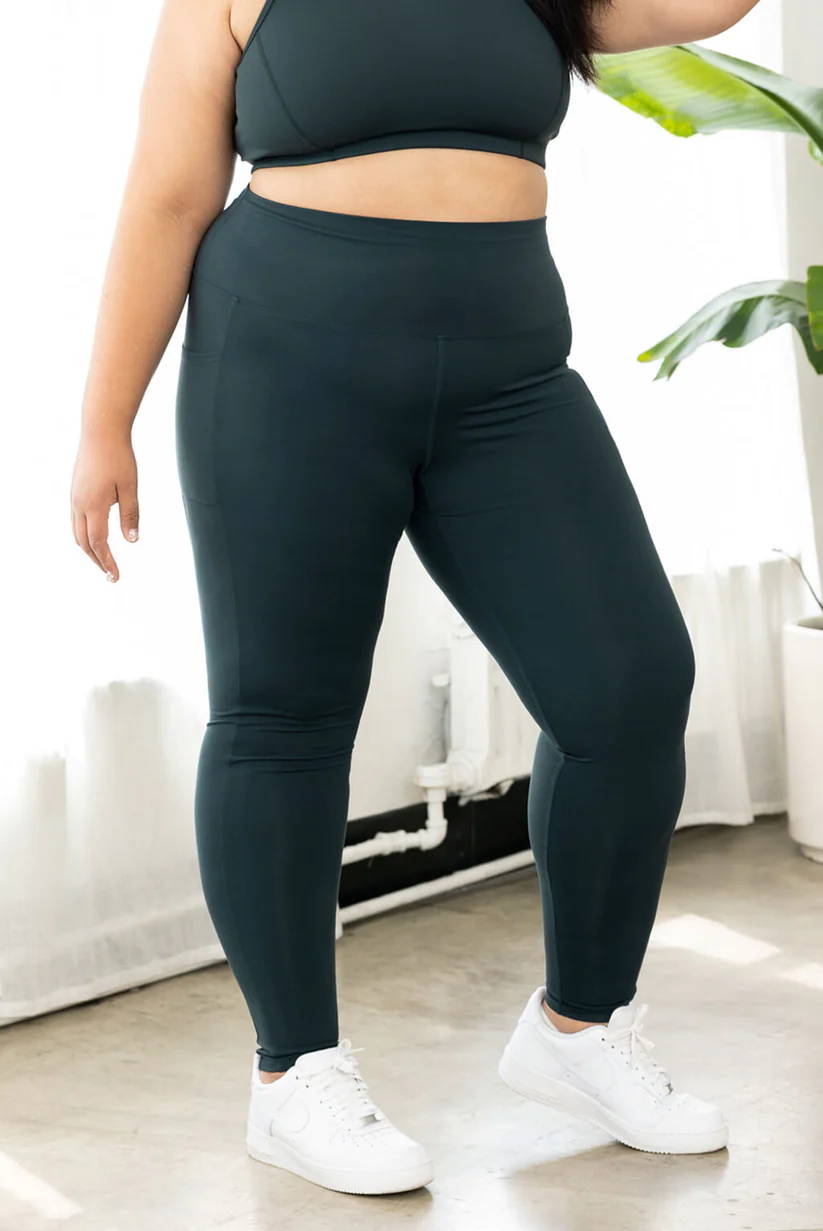 3. Superfit Hero Superhold Pocket Leggings
There's a lot to love about the super-popular Superfit Hero Superhold Pocket Leggings.
But after the last pair, I'll start with one of the features that gets mentioned in almost every online review: convenient pockets that offer lots of room.
Whether you plan on wearing these to yoga class, out for a long bike ride, or just strolling through town, you'll have enough room for the essentials and won't have to worry about them falling out.
Another reason Superfit Hero leggings have become so popular is that they are one of the only brands out there made exclusively for plus sizes. This was a decision the company made back in 2000 when they announced they'd be extending their sizes up to 7x while canceling their extra-small, small, and medium sizes.
So, if you see your size among the canceled, unfortunately, Superfit Hero isn't an option. But if you are a large or up and love the idea of adequate pocket space, give them a look.
It's no longer the challenge it once was to find leggings for plus-sized women, but even with so many options out there these days, Superfit Hero Superhold Pocket Leggings seem to be queen of the hill. Many reviewers online have pointed out that the fabric is as dense as it is soft, offering an equal combination of support and comfort – something you don't always find in leggings.
4. Lululemon Align High-Rise Pant Leggings
If you're a fan of leggings – or just athleisure in general…or just haven't been living under a rock for the past decade – then you already know all about Lululemon. This world-famous brand took the legging world by storm and, arguably, is more responsible than any other company for making athleisure the lifestyle it's become.
You probably also know that Lululemon leggings are pretty expensive.
Still, it's hard to argue that you're not getting what you pay for when it comes to the Lululemon Align High-Rise Pant. As the company puts it, these leggings are "…so weightless and buttery soft, all you feel is your practice."
And a lot of women online have certainly reported that they love the comfort these Lululemon leggings deliver when working out.
But these are another pair that most reviewers also seemed to enjoy wearing during everyday activities, too. Lululemon appears to have delivered on their promise that you'll forget you're even wearing them, even though their material will ensure plenty is still left to the imagination.
They've even hidden a pocket in the waistband, so you can bring your key or card with you to the gym without your purse.
If you have the budget, I think it's going to be hard to ignore the hype surrounding these leggings. For many women, the fit and feel easily justified the price tag. It also doesn't hurt that they're incredibly fashionable. At this point, the Lululemon logo is among the most recognizable in all of athleisure – maybe even in all of women's clothing – which is a nice bonus.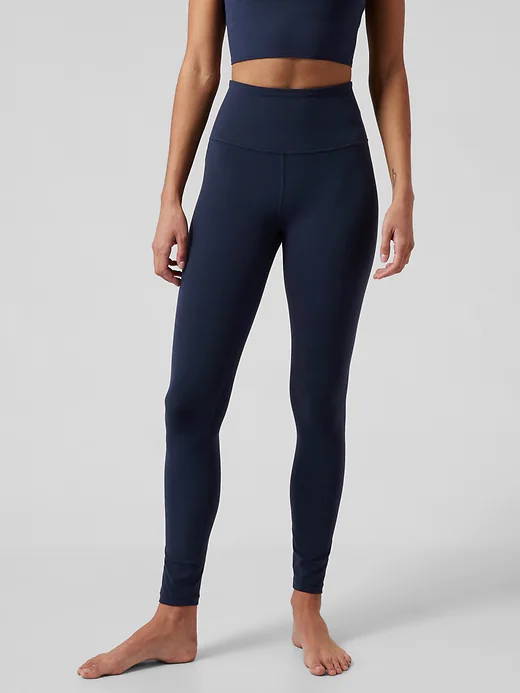 5. Athleta Ultra High-Rise Elation Tight Leggings
If you want to save around $10 – which is a lot if you plan on purchasing numerous pairs – then the Athleta Ultra High-Rise Elation Tight leggings are a great alternative to the Lululemon pair I just covered.
In fact, a lot of the reviews for these full-length, high-waisted leggings sound very familiar after the last one. They mention how "buttery soft" they are even though the fabric is a little thicker. For some, the "barely there" feel is why Lululemon wins, but if you like having a little more support without a compression feel, Athleta may be the better choice.
While the waistband is twice as thick as the rest of the leggings, some online reviewers reported it slipping a bit, though it doesn't necessarily sound like that was a dealbreaker for most.
And just like the Lululemon pair, Athleta added a pocket to these leggings. One big advantage to this pair is that this pocket is big enough for your phone.
Also, if you've considered Athleta in the past, but couldn't find your size, the company has expanded their selection from XXS to 3X – which includes their Ultra High-Rise Elation Tight.
If you're willing to pay more for amazing leggings but aren't a fan of Lululemon, Athleta seems like the obvious next choice. This is especially true if you don't feel like Lululemon's popular leggings offer enough support. Athleta is definitely targeting women who want comfortable, fashionable leggings they can still wear for a grueling run or spin session.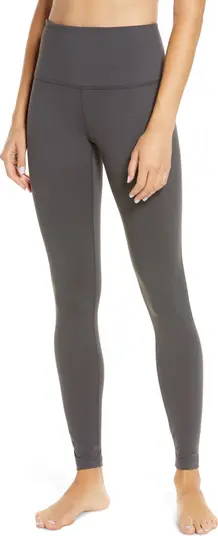 6. Zella Live-In High Waist Leggings
Zella Live-In High-Waist Leggings have developed a fairly impressive following among women who want a fashionable pair they can wear out – not necessarily to the gym.
That's not to say these leggings can't handle a workout. Zella – which is owned by Nordstrom – made them with a brushed, moisture-wicking fabric that is perfect for the gym, yoga studio, or running trail.
However, their compression style probably has more in common with shapewear than athletic clothing.
The one drawback I found for choosing the Live-In High Waist Leggings for loungewear is that they don't offer much in the way of pocket space – just a small one on the waistband for your credit card and keys. That seems like a missed opportunity, but Zella does offer a cropped version of these leggings.
You may also prefer them if you run a medium or smaller (Zella runs these from XXS to XXL). The inseam for their standard mediums is 28.5 inches, which might be longer than comfortable for some. For the Cropped Live-In High-Waist Leggings, that inseam is reduced to just 20.5 inches.
Oddly enough, even though these leggings are probably better for the couch than the gym, they had one of the more reliable no-slip waistbands with many reviewers reporting that it didn't even move during workouts.
Price Tag: $59, $55 for the cropped
If you're looking for leggings because you love wearing them out to meet with friends, but you don't want to break the bank, Zella's Live-In High-Waist leggings seem to fit the bill. Nordstrom has a reputation for making stylish clothes that are still relatively affordable and these are no exception. Although they probably aren't great if you love intense daily workouts, they have what it takes to keep up with more casual routines.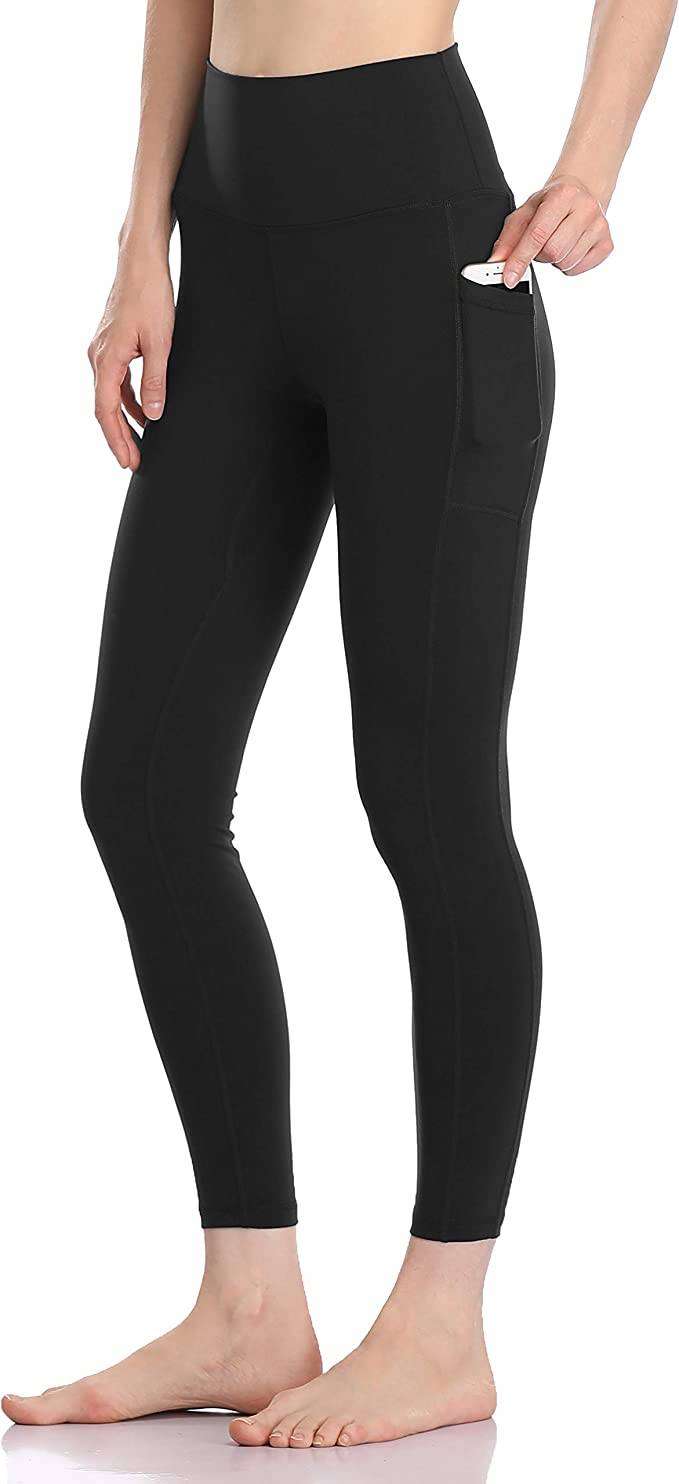 7. Colorfulkoala Women's High Waisted Yoga Pants 7/8 Length Leggings with Pockets
Colorfulkoala is quietly taking the world of leggings by storm.
If the name doesn't catch your attention, how about the fact that more than 30,000 customers have given these leggings five stars on Amazon?
And if that doesn't do it, how about the price tag
These women's leggings won't run you more than $29.
Fortunately, Colorfulkoala leggings are a good reminder that "affordable" doesn't need to mean "cheap." Their material is stretchy yet supportive and many reviewers have also reported that it's incredibly durable. Some who wear them multiple times a week for a year say that the breakdown is minimal and that they even hold up better than many more expensive brands.
I also appreciate the level of variety they offer. At the moment, Colorfulkoala has 39 different colors and patterns, including some really fun options like camo.
Without a doubt, these are the best option if you want leggings but are on a budget. They are one of the most affordable pairs on the list and, yet, as I pointed out earlier, reviewers clearly love them.
I won't claim that their material stacks up with the likes of pricier brands like Lululemon or Activa or that they're the best option for workouts. But as far as "bang for your buck goes", Colorful Koala and IUGA probably offer the best leggings on the entire market.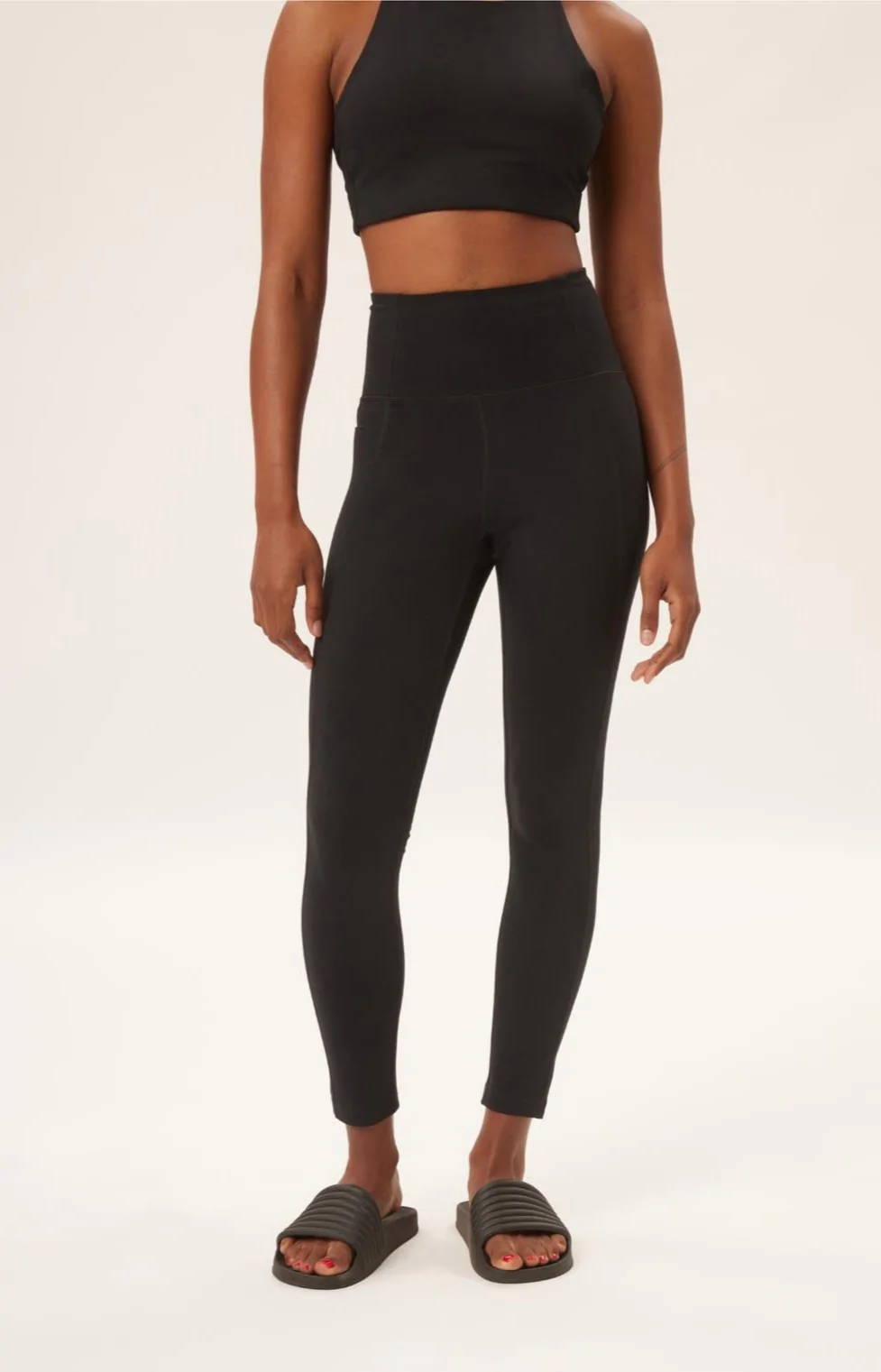 8. Girlfriend Collective Compressive High-Rise Leggings
If I had to select one pair of leggings for the "versatility" award, it would probably be the Girlfriend Collective Compressive High-Rise Leggings.
Are they yoga leggings?
Yes.
Are they workout leggings?
Yes.
Are they the type you can wear to brunch or out on your errands?
Absolutely – yes.
And as the owner of a company that believes in sustainability, I also admire that the Girlfriend Collective uses recycled plastic bottles to manufacture these leggings.
But sustainability doesn't mean cutting corners. Girlfriend Collective's leggings come with a lot more seaming than most of the other popular brands offer. The result is a flattering shape and more supportive feel. The latter is also accomplished with a thicker fabric that is smooth to the touch yet still stretchy enough to be plenty comfortable.
If there's one thing bad to be said about the Compressive High-Rise Leggings, it's the small pocket. Like other leggings on this list, it's big enough for cards and keys, but it seems like the trend is definitely moving toward having enough space for your phone, too.
Girlfriend Collective offers the most sizes on this list – from XXS to 6XL – so if you love what you just read, they're worth checking out.
These aren't the most expensive leggings on our list, but they're definitely toward the higher end. Still, if you have the budget and you want versatile leggings that fit and feel great no matter what you're doing, the Girlfriend Collective Compressive High-Rise Leggings are a popular choice.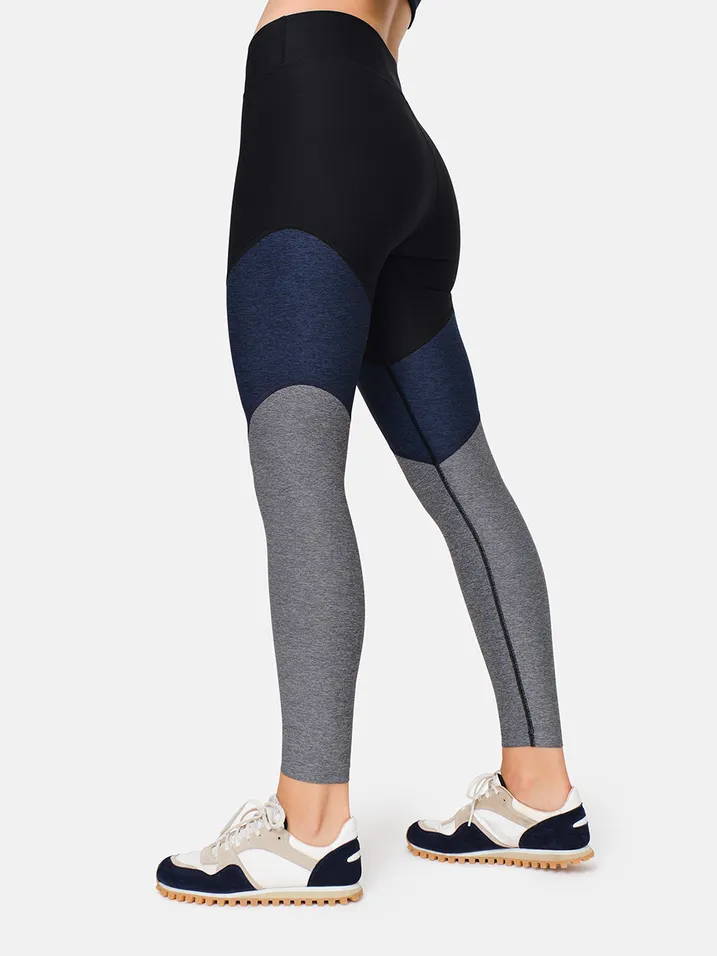 9. Outdoor Voices Springs 7/8 Leggings
Online reviews for Outdoor Voices Springs 7/8 Leggings are all very flattering, but the one word that I saw came up over and over was "durability." These aren't the kinds of leggings that will pill or fade after just a couple of washings. In fact, I saw more than one reviewer report that they didn't even shrink – or lose any of their color – after being run through dryers on the hot cycle.
Outdoor Voices came up with some pretty cool patterns and colors for these leggings, as well, though there are two options for colorways. You can also only choose one inseam length, but the company offers a decent range of sizes (XXS to 3XL).
The one real negative that many reviewers brought up is that the Outdoor Voices Springs 7/8 Leggings feel a bit stiff, even after numerous wears. I'm guessing this is a tradeoff that comes with their durability. If your priority is unrestrained movement above all else, though, you'll probably want to go with Lululemon or Athletica.
I don't know if these leggings make the fashion cut in terms of wearing them outside of your home or gym, but the Outdoor Voices Springs 7/8 Leggings have definitely received a lot of high marks as the perfect pair for working out in again and again. The thickness of their fabric might make them perfect for wearing outside in fall or winter, though.
If you value durability, this might be the best pair on the market. And though the price tag is definitely on the higher end, you shouldn't need to replace them anytime soon.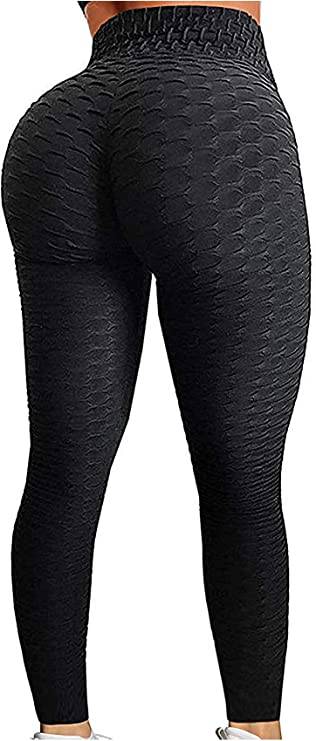 10. The World-Famous Tik-Tok Leggings: Seasum Women's High Waist Yoga Pants
I debated whether or not to even include these, but given how insanely popular TikTok has become, it seems only right to cover Seasum Women's High Waist Yoga Pants.
If it's not immediately apparent why, congratulations. You clearly have better things to do than spend all day on TikTok.
So, here's the scoop:TikTok made a pair of leggings famous for making your butt look great.
As the article I just linked to puts it, "…users on the app are singing the praises of a pair of high-waisted leggings that are said to hug your curves in all the right places and give your butt a little extra oomf."
Though Seasum makes them, their High Waist Yoga Pants are better known as #AmazonLeggings on TikTok or just "those leggings from TikTok."
But are they really that great?
Well, first, let's talk about the hype. Seasum earned their TikTok popularity by giving their leggings a scrunched seam down the back that lifts and accentuates the wearer's butt. Their honeycomb pattern probably helps. Plus, the fabric is ribbed, which gives the finished product even more dimension.
But here's the thing: the TikTok leggings are a huge hit in real life, too. Just look at how many Amazon reviewers sing their praises.
45,800 5-star reviews is A LOT!
You don't get those just for making cool TikTok videos.
Aside from their accentuating capabilities, these popular leggings also come in almost 100 different colors and patterns from small to 4XL. Many options come in a capris-cut and some even have side pockets!
Well, people who want to make TikTok videos for one, although that trend may have passed by now.
However, if you're just looking for fashionable leggings that don't cost much but do make your butt look great and come in a dizzying array of options, Seasum's High Waist Yoga Pants are definitely worth a try.
Which Leggings Are Best for You?
While I tried giving my recommendations for which yoga pants would suit you best depending on your preference, ultimately, it's a personal decision. If money is no object, it's going to come down to what feels best – whether that's for walking around town or going to yoga – and, perhaps, what makes you look best, too.
Otherwise, it's easy to recommend some of the more affordable options that made my list of best leggings:
Colorful Koala Women's High Waisted Yoga Pants 7/8 Length Leggings with Pockets: $25-$29
Seasum Women's High Waist Yoga Pants: $19-$30
IUGA High-Waist Yoga Pants: $19.95-$42.95
Give one of these pairs a try and you can always spend a bit more later on whenever you're ready for something different.