The 10 Best Running Sunglasses of 2023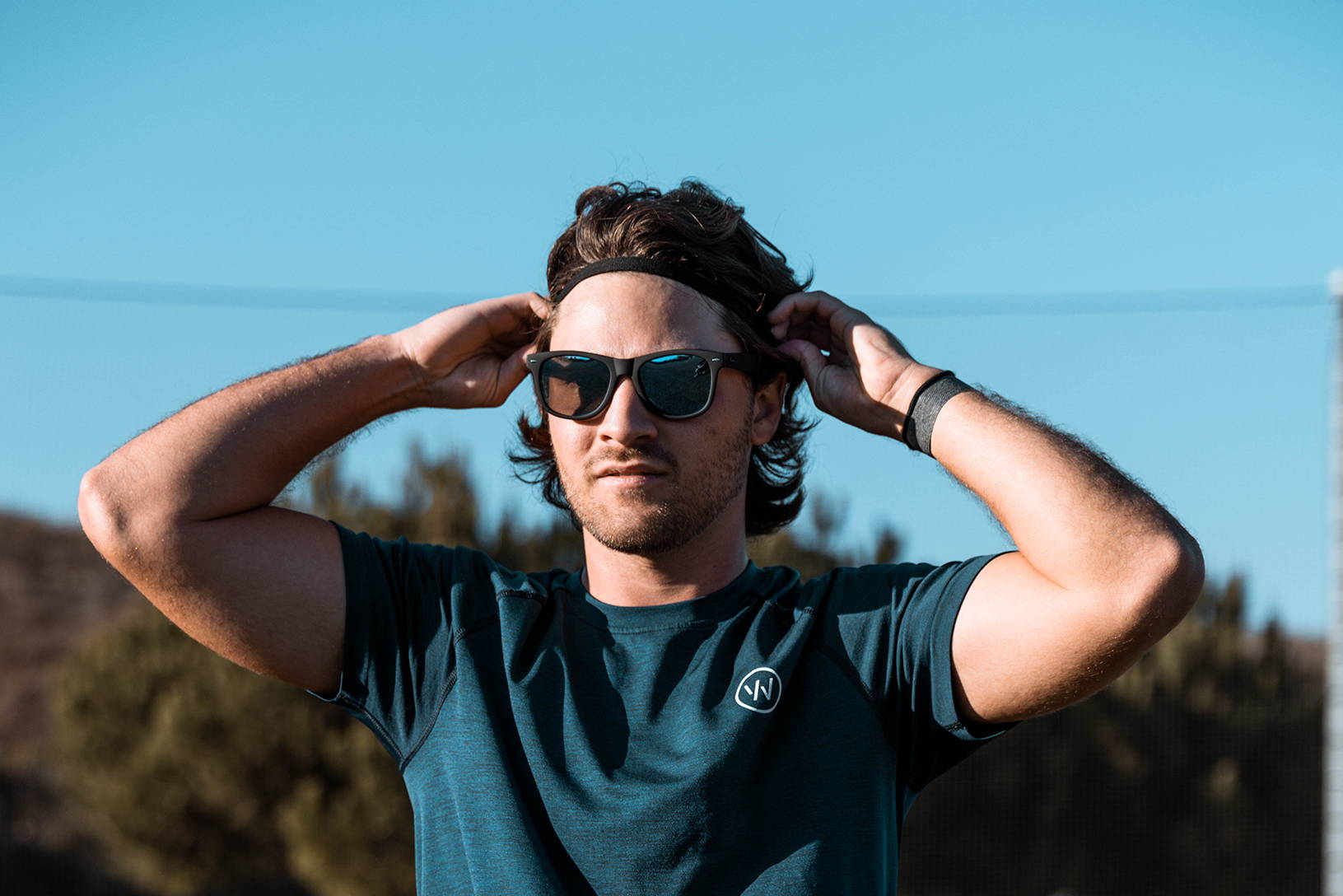 For those of you who prefer to run long distances, running belts are usually a good investment, too.
Those are all a matter of preference, though. You may be perfectly happy with keeping things minimal during your runs.
However, if you usually jog outside, most experienced runners will tell you that you should never forego the many benefits of running sunglasses.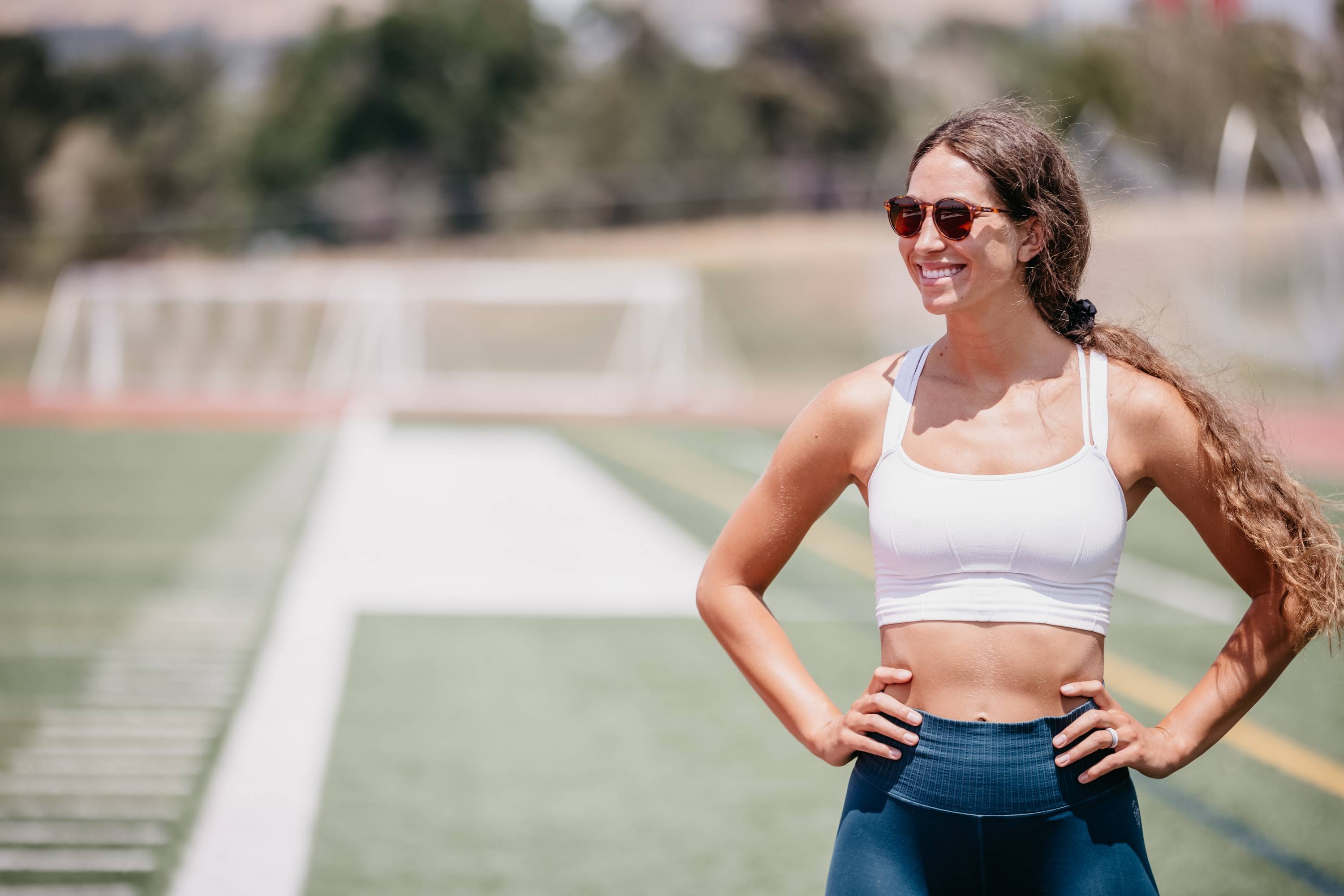 What to Look for in Running Sunglasses
There have never been more options for running sunglasses than we currently have in 2023.
So, how should you decide which pair of shades will be best for your runs?
While a lot of it comes down to personal taste, let's look at some important factors to consider.
UV rays can reach your eyes from all directions, so it's essential that your running sunglasses come with lenses large enough to cover your eyes and UV400 protection.
Wraparound models provide the most coverage when it comes to protecting your eyes from the sun, but any lens shape will aid in reducing seasonal irritations.
We included a variety of frame types below, but all of them provide sufficient coverage to protect your eyes from the sun during long runs in the middle of the day.
2. Polarized Lenses and Tint

Speaking of protection, polarized lenses cut down on glare reflected from concrete, car windshields, the water, and other reflective surfaces, so you can relax and enjoy on your run. Not needing to squint the entire time will help keep you safe, too.
Despite what a lot of people think, simply wearing sunglasses with dark lenses isn't good enough – at all. Be sure to confirm the lenses you're considering are polarized.
3. Light, Full-Coverage Frames

Small frames may be stylish, but they have no place when it comes to running sunglasses. Size matters here.
Larger, wraparound frames that fit closely to your face will do a better job of protecting your eyes from direct sunlight and glare.
But they should also be lightweight. After all, you'll be wearing these shades during exercise, so any added weight is working against you.
Finally, more and more, many runners want shades they can wear once their run is over, too. They want something that will look good when they're out on the town or relaxing at the beach. So, we've been sure to include some shades that reflect this 2023 trend in our list below.
The 10 Best Sunglasses for Runners – Shades for Everyone
The main benefit of wearing shades when you run is (hopefully) obvious: they'll keep the sun out of your eyes.
Look, I'm a fan, but the sun can pose a very serious threat to your eyes, which is why you need to wear sunglasses if you're going to run outside during the day.
But with millions of options to choose from, which running sunglasses are the best option for your particular peepers?
To help you decide, I've put together the 10 best options on the market in 2023, making sure to include a wide range of designs, so there's something for everyone.
1. Runners Athletic Sunglasses – $49
The first running sunglasses on my list just so happen to be the shades my company makes.
As you can see, I designed these sunglasses with style in mind. I wanted options that would be perfect for running trails and walking around town.
But make no mistake: these glasses aren't just about style. There's plenty of substance to them, too.
I gave them spring flex hinges that keep them tight to your face when running without causing any discomfort whatsoever. Their no-bounce design will keep these shades right on your nose even as you pick up your running pace.
Speaking of breathing hard, I picked lenses that would be fog resistant, so you can keep chugging along even in temperatures that would usually cause fog with other glasses. You'll have no problem seeing the path ahead.
These sunglasses also come equipped with polarized lenses that have UV400 protection. So, aside from helping you see where you're going on sunny days, they'll keep your eyes safe from the sun, as well.
Despite all of these advantages, our sunglasses are ultralightweight, weighing just 26 grams.
And, maybe my favorite part: we make them using 100% recycled plastic.
Currently, we carry three models in sizes ranging from 47 to 54 millimeters for a total of 25 different styles.
So, whatever your personal fashion preference is, you'll find an option in our inventory.
And as the most affordable sunglasses on our list, they fit any budget, too.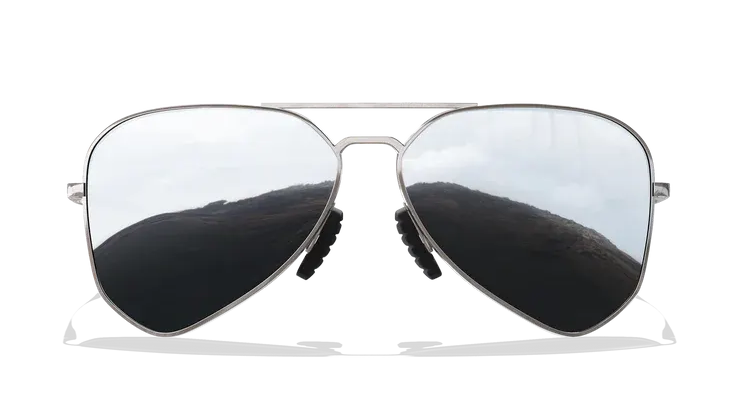 Brand new for 2023, we're extremely proud of our new blackout aviators.
With so many aviator sunglasses already on the market, we took our time designing a pair that we knew would stand out for all the right reasons.
Like our other pairs of shades, these are sustainable sunglasses made from recycled materials.
But that's not all.
Their angular design is in stark contrast to the rounder look that we've seen for the better part of a century, so if you already own a pair of aviators, you definitely don't own one like these.
Plus, as far as running goes, these aviators have a no-slip, no-bounce design to keep them in place.The frames are also extremely lightweight, so while they'll fit any head, they won't hold you back because of excess material weighing you down.
If you want to see other similar options (not necessarily for running), check out our recent breakdown of the best aviator sunglasses of 2023.
3. Smith Optics Parallel MAX 2 - $139
As you're about to see, the major trend in running sunglasses at the moment is to give them large, single lenses, making them look a lot more like skiing goggles.
But before we dive into the best examples of that style on the market, I want to highlight a few exceptions, starting with Smith Parallel Max 2.
Of all the shades on our list, this pair reminds me the most of the old-school wraparound look that Oakley made so popular decades ago. Oakley will make an appearance on this list later but for the newer trend I just mentioned.
Anyway, for the traditional wraparound look, I think Smith has the best option on the market, at least as far as running sunglasses go. They offer larger lenses than other shades with this style, so their UV protection will cover your eyes from every angle.
Smith also includes a decent number of options for the color of your frames and lenses. For this reason, you may even decide to wear your Parallel Max 2 shades as your normal sunglasses.
4. Maui Jim Hot Sands Polarized Rimless Sunglasses - $199.99
Maui Jim Hot Sands Polarized Rimless Sunglasses are another pair I'd put in that category of sunglasses that are great for running and everyday life.
Like the last pair, they borrow a bit from the classic Oakley look but not enough that they should be considered imposters. These are definitely shades designed with runners in mind. Maui Jim gave them polarized lenses that also provide UV protection – two essentials for running sunglasses. Their polycarbonate frames are extremely light, too, which goes a long way toward ensuring your comfort during lengthier runs.
As far as fashion goes, their rimless design and sleek frames (choose black or blue) are very stylish. Again, these might be shades you could wear with casual clothes, which is a huge plus in my book.
5. Nike Windshield Elite Pro Rectangular Sunglasses - $146
Before we dive into some of these larger-lensed running sunglasses, let's transition with a happy compromise between old- and new-school shades.
Nike Windshield Elite Pro Rectangular Sunglasses have that wraparound look I've mentioned already, but they carry a much larger, single lens that will give you panoramic coverage. The overall look may not necessarily fit with the rest of your day-to-day attire, but it's much more understated than the options below.
But these Nike running sunglasses didn't become so popular just because of their aesthetics. Nike gave the lenses a "Field Tint" that "mutes bright light while enhancing your ability to track objects", which makes them a great option for running on bright, sunny days.
Some online reviews mention that these sunglasses come with a snug fit, which isn't necessarily a bad thing, but you may want to wear a headband or running cap to keep the sweat from pouring in.
While they're much better known for their shoes, I actually like the Adidas SP0018 running sunglasses a lot. Adidas partnered with Marcolin – a popular sunglass manufacturer in their own right – to make these shades and I think the results speak for themselves.
The frames on the SP0018 are as flexible as they are lightweight, two components you definitely want in running shades.
These sunglasses also come with plenty of coverage. In fact, you could probably wear these as cycling sunglasses, too. I wouldn't say they're the best option for wearing outside of athletic endeavors, but if you're strictly looking for sunglasses to wear when breaking a sweat, the SP0018s are a fantastic choice.
7. Oakley Jawbreaker - $226
Oakley has become synonymous with the traditional wraparound athletic shades that became uber-popular during the 90s.
But as I mentioned earlier, that's not why they're on this list.
While many people still like that style for their running needs, Oakley has also evolved a lot since then. Their Jawkbreaker sunglasses are a perfect example. This is another pair of shades that comes with maximum coverage – and, again, an option that would probably work for cycling, too. They sport very stylish frames that will fully wraparound your face.
Oakley offers a crazy level of customization with these shades, as well. You can pick from a wide range of colors for everything from the lenses to the ring around the icon. You can even add the logo for your favorite NFL or NBA team or choose a custom etching (making these sunglasses a great gift for your favorite runner).
However you choose to customize the Oakley's Jawbreakers, the result is going to be something awesome that looks like it came out of a comic book. If you want to feel superhuman when you go running, why not look like a superhero while you're at it?
When the designers at Julbo set out to create their Fury sunglasses, it seems clear that subtlety was the last thing on their minds. These shades are HUGE with a mono lens that will just about cover the entire top half of your face.
Julbo offers plenty of choices for colors, too. There are six combinations in total, but they range from white frames with blue-and-purple lenses to blue-and-green frames with orange lenses. So, if you're looking to go unnoticed, these probably aren't the sunglasses for you.
These polycarbonate sunglasses also come with photochromic lenses that change with lighting conditions to be darker or lighter depending on what's better for your vision.
That said, of all the options on this list, these sunglasses may be the least versatile in terms of shades you can realistically wear for anything other than working out. Everyone's personal style is different, of course. But yours would have to be really different to make these work.
Nonetheless, even if they're not the shades you'd want to wear on a date or to happy hour with friends, they'll still be great for protecting your eyes when running on sunny days.
On the other hand, let's look at another addition from Smith: their Reverb sunglasses.
They represent a unique addition to the current crowd of running sunglasses that feature massive mono-lenses. Despite featuring that large lens, Smith is clearly trying to achieve a fairly minimalist look, too – something that makes it stand out from similar options.
That's not the only reason I included these sunglasses on this list, though. Runners also like that their ChromaPop™ lenses enhance contrasting colors and offer UV protection.
While their minimalized style has made these shades popular among cyclists who will do anything to reduce drag, they're plenty popular with runners, too. If you like the large-lens look but don't want all the bulk that most models bring to the table, Reverb may be the perfect sunglasses.  
10. Bose Frames Tempo - $219
And, finally, for something really different.
Combining technology with athletic attire is nothing new – not common, per se, but not new. I even included an example of this in my recent post about the best hats for running.
A lot of people seemed to like that particular option, so I wanted to do the same here and show you the Bose Frames Tempo.
These shades are definitely unlike almost any other on the market. Obviously, their selling point is right in the name: these sunglasses come with Bose Open Ear Audio™ built right in.
Unlike the headphones you probably wear at the moment, the incredible earbuds on these sunglasses will play your music while still ensuring you can hear the outside world. This is extremely important for those of you who enjoy running outdoors, especially if you tend to jog near traffic or run on trails that may be isolated. You want to hear your music, but it's even more important that you're able to keep aware of your surroundings.
And no matter how long your runs last, chances are Bose's 8-hour battery life will be able to keep up.
Picking the Best Running Sunglasses for Your Unique Needs
You have a number of options if you're in the market for running sunglasses. Whether you want a fashionable pair you can wear on the track and around town, the traditional wraparound style, or something completely different altogether, the perfect option exists for your unique preferences.