Running Belt or Armband? Which Is Better for Runners?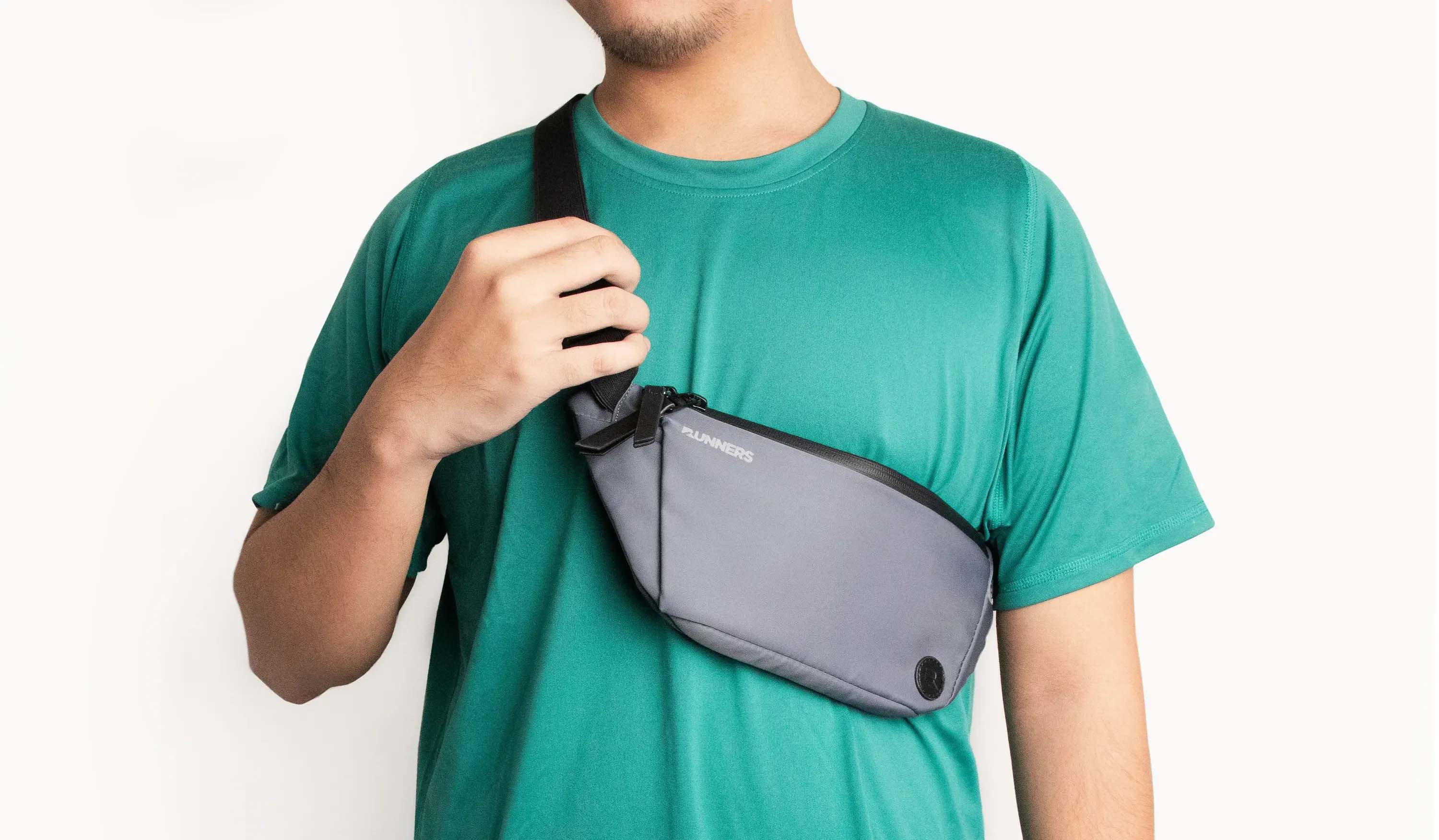 This page may include affiliate links for the Amazon Associate program, which means the owner of this site will earn money from any qualifying purchases you make from clicking on an Amazon link.
Every runner has a different list of gear they consider essential when they hit the trail.
Usually, this includes water, a smartphone, keys, maybe running gels, and perhaps a credit card or even one's entire wallet in case of emergency (e.g., you see an ice cream truck).
The real question isn't what items you should carry on your runs. It's what's the best way to carry them?
And, for most runners, the answer is a running belt or armband.
While many running shorts and even leggings have been designed for space to hold a phone or cards, if you want to bring along anything more, you probably need to consider a belt or band.
But which option is best?
Running Belts vs. Running Armbands: The Deciding Factor
In this post, I'm going to break down different pros and cons of wearing one or the other, but really the deciding factor that should ultimately decide if you run wearing a belt or an armband is this: how long are you running for?
The reason this should be the one question that casts the final vote (for most people) is that the longer you run, the more you should probably take with you.
And while there are some great armbands out there that can carry some decent cargo, there's a limit to what they can realistically hold and what you can comfortably run with attached to your arm.
By comparison, a running belt can hold all kinds of items in fairly large quantities. Though you still probably don't want to weigh yourself down too much, running belts certainly make it more comfortable to run with a heavier load.
Again, I'll go through some examples a bit later, but for now, think about what you want to take with you when you run.
If you're only going a short distance, you might be fine only taking your keys and phone.
But depending on the temperature outside, even a short distance should probably mean you take water with you.Proper hydration is important.
That said, there are some running armbands that can carry water, but that's just about it. So, if you're running on a track and can keep your keys and phone somewhere safe nearby, maybe this is a good option. Otherwise, you're probably going to want to wear a running belt.
However, just to be sure that's the right choice, let's break down the reasons for and against running belts and armbands.
The Advantages of Wearing a Running Armband
First, let's begin with the major reason that so many runners prefer wearing armbands instead of running belts.
Convenience, Fit, and Comfort
Runners love armbands because they're incredibly convenient to use. Now, the reason for this is also related to the drawback I mentioned earlier. There's really only so much you can carry in an armband, but if you only want to bring your keys and phone, then it's incredibly convenient to have them right on your arm.
With a larger belt, you could have to do some digging before you pull out your phone mid-run to change the song or even answer a call.
When wearing a lot of armbands, you can do both of these things without even removing your phone. Many options will make it as easy as tapping through a clear protective layer to use your device.
Armbands also do a great job of staying in place while you run. They provide a snug fit that won't bounce around or cause chafing as you work up a sweat (provided you choose a high-quality option, of course).
It might be worth noting that armbands are, on the whole, cheaper than running belts, but I don't think the savings are significant here. If you really need a running belt and are on a tight budget, there are plenty of cheap options to choose from and, again, you won't be saving enough on an armband that it would be worth foregoing the benefits of a belt.
The Disadvantages of Wearing a Running Armband
I'll keep this quick because we already covered it a couple times now: armbands can only carry so much. So, unless you run in accommodating climates or stick to the treadmill or indoor tracks, you should probably carry water with you, which means most armbands are out.
If you still decide an armband is for you, one word of caution: don't assume they'll fit your phone. You need to double-check to make sure the version you buy won't be too small or your phone isn't going to fit. On the other hand, if it's too big, your phone will fit, but it'll also get jostled around during your run, which will make it harder to operate.
The Advantages of Wearing a Running Belt
Well, you probably guessed the biggest advantage of wearing a running belt by now: they make it easy to carry whatever you want and as much of it as you need.
So, whether you want one bottle of water or four of them (like the 247 Viz Hydration Running Belt), there are multiple options out there from which to choose.
However, there's one other big reason that many runners choose to wear belts.
Running Belts Are Perfect for Running with Your Dog
For many, this is the real deciding factor between running belts and armbands.
Many belts double as hands-free dog leashes for runners.
So, you can keep yourself hydrated and listen to your favorite tunes while also bringing your four-legged friend along for the fun.
And just like with running belts and armbands, there are countless options out there to consider. This includes plenty that will give you room to carry ample water, keys, cards, and, of course, a clip for your leash.
If you're a dog owner, this is probably game, set, match: running belts are the easy choice.
August, 2022 Update: We just came out with our own hands-free dog leash for runners if you're sold on their benefits."
The Disadvantages of Wearing a Running Belt
The only real disadvantage I can think of is simply that you need to be more careful about which options you choose.
We've covered the best running belts of 2022 before, so start there if you're new to the market as we listed a wide range of options.
Take your time considering these.
The larger options make more sense if you go for longer runs where you might want several water bottles and room for energy gels or even emergency gear if you prefer to run on remote trails.
But plenty of people prefer running belts over running armbands who aren't knocking down 5+ miles with every jog. They just want enough room for a water bottle or two, their keys, their wallet, and their phone.
If this sounds like you, a bulkier option is probably going to be more trouble than it's worth.
While it might seem smart to go with a bigger running belt than you really need – so you have the right option for running 1 mile or 10 – I'd advise you find the right option for the distance you run most often. Too much belt just won't be comfortable if you don't absolutely need it.
The Best Running Armbands in 2023
Alright, with those caveats in mind, let's take a look at three of the best armbands on the market in 2022. I picked three very different options to give you an idea of what's available depending on your unique needs.
1. The Hydrosleeve Hydration Pack for Runners – $38.77
I'll start with the Hydrosleeve Hydration Pack because it's going to be your best option if you want an armband but also want to take water with you on your runs.
While that's generally what draws people to running belts, this particular running armband is capable of holding 7.5 oz in a unique BPA- and PVC-free pouch that will conform to your arm, so it's extremely comfortable and won't bounce around. It also has a Therma-cool insulator, so your water won't heat up just because you're out during an especially hot day.
2. VUP Running Armband – $12.93
If you don't need water for your runs, then one of the best armbands on the market is definitely the VUP Running Armband. It's as unintrusive as it is inexpensive, yet it still brings a lot of handy features to the table.
The big one is how it fits – your arm and your smartphone.
It's designed with two adjustable buckle loops to fit just about any size arm – big or small.
This armband can also be adjusted to fit almost any smartphone, too – between 4 to 6.7 inches.
And once your phone is nice and snug next to your arm, you can rotate it 360°, so it's easy to see and operate from any angle.
Despite its sleek design, this armband also comes with a tiny pouch that can fit your keys, too.
3. E Tronic Edge Phone Holder for Running – $11.79
Lastly, there's the E Tronic Edge Phone Holder, which a lot of people love for its simple style. It's basically a small, flexible pouch that can hold your keys, cards, and phone (any size up to 7").
But it's designed so that, when worn with its armband, the entire thing lies flat against your body.
Many runners prefer this streamlined version of an armband because it keeps bouncing to a minimum. Even though it conforms tightly to your body, it's still very breathable and is made with fabric that will wick sweat away, which means you won't become uncomfortable as you run.  
The Best Running Belts in 2023
Like I said, we've already covered this before, so check out that post for 10 of the best running belts in 2023.
For now, I'll once again give you three very different options from that list, so you'll have a better idea of what's out there.
FlipBelt is easily one of the most popular running belts on the market. In fact, if you check the aforementioned post on running belts, you'll see that the first comment on that article is from someone vouching for the product.
Unlike a lot of other options on the market, the FlipBelt isn't bulky in the least, though it still offers four pockets, which can stretch to accommodate even the largest smartphones.
While this is enough room for gels, it won't fit a water bottle, so FlipBelts are a great option for someone who wants more space than an armband can offer, but you'll want to keep looking if hydration is a priority during your runs.
2. AiRunTech Upgraded No Bounce Hydration Belt - $18. 95
In that case, you may want to wear the AiRunTech Upgraded No Bounce Hydration Belt.
A lot of runners swear by this belt not just because it gives them a place to put a water bottle that's up to 33.8 oz, but because of the way it orients the bottle against your body.
It's positioned at a 45° angle, so it's easy to grab and replace while you're still running. The belt will also keep it flush against your body – in the rear above your waist – so it won't impede your normal running cadence.
AiRunTech also included a good deal of pocket space, so you'll still have room for your keys, cards, and phone.
3. CamelBak Ultra Belt – $55.00
Even as comfortable as that last option is, some runners just can't get used to the feeling of wearing a bottle while they jog.
If you fall into this category, look no further than the CamelBak Ultra Belt.
This is another minimalist option that is designed to be worn comfortably without slowing you down.
However, what really differentiates it from other running belts on the market is its Quick Stow Flask, which sits in a pocket at the back of the belt – so, again, clear of your legs while you're running.
The collapsible flask is designed so that, if you finish all 17 oz of water, you won't be stuck carrying around an empty bottle. Just fold it up back in its handy pocket and keep on running.
And while the unique bottle design is the main draw of this option, CamelBak also included plenty of pocket space for your other essentials.
Running Armbands vs. Belts: The Final Verdict
As I touched on at the beginning, running armbands are best if you only need to take your phone and keys because you aren't running for very long and the temperature won't be causing a problem where hydration is concerned (unless you choose the Hydrosleeve Hydration Pack).
Running armbands are also a good choice if you're running on an indoor track or on a treadmill that doesn't have space for your phone. You can keep it nearby and constantly in-reach by simply wearing an armband.
Otherwise, running belts are the clear winner when you don't want to make tough decisions about what to leave behind. If your runs regularly leave you desperate for water, having a running belt with water readily available is going to change your life.
Fortunately, as you saw earlier, running armbands and belts both offer some fairly affordable options. The right move may be to test-run with a cheap armband first and, if that doesn't work out, you shouldn't have to stretch your budget too much further to move onto a running belt that better fits your needs.